Murder Bay | Never Was an Angel
by Justin Gaines
– News Editor —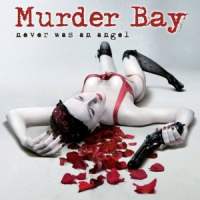 It seems like every year enterprising labels manage to dig up previously unreleased material from lesser known '80s rock bands. More often than not, you can tell right away why no one had released it until now. The Eonian label has earned a reputation for putting out some real gems though, and their Murder Bay collection Never Was an Angel is no exception.
Murder Bay was active in the late '80s and early '90s, and while they hailed from San Francisco, their sound was way more suited to the Hollywood hair metal scene. The term "should have been huge" gets tossed around pretty casually, but in Murder Bay's case it really does apply. This is a band that should have been all over radio and MTV in the early '90s. Maybe not Poison or Warrant huge, but they should have at least got the coverage bands like Danger Danger and Trixter got. Murder Bay's sound was an almost perfect slice of hair metal. Not too obnoxious (they did innuendo but never wrote songs about their junk), not too twangy, not too AOR – it's the sweet spot between Warrant, Steelheart and Y&T (who had to be a huge influence on the band). Their songs have catchy hooks, simple and infectious melodies, choruses that are easy to sing along with, and a nice hard rocking backbone – pretty much everything good about the old hair metal days and none of the cheese.
Never Was an Angel contains Murder Bay's 1990 demo recordings, presented on CD for the first time. The songs have all been remastered, and sound terrific. Honestly, you never get the impression that you're listening to demos here. There are also nice liner notes with vintage photos and band info. It's the kind of great looking and great sounding collection we've come to expect from Eonian.
If you still spin your old Ratt and White Lion CD's on a regular basis, you definitely want to pick up Never Was an Angel. Murder Bay is a band that just about any fan of the hair metal heyday needs to hear, even if it is coming 20+ years later.
Genre: Hard Rock, Hair Metal, Melodic Rock
Band:
John Link (d) (v)
Bobby Reid (b) (v)
Paul Trombetta (v)
Michael Karafilis (g) (v)
Track Listing:
1. Land of Plenty
2. Honey Child
3. Outta Line
4. Ultraglide
5. Simple Man
6. Dirty Work
7. Never Was an Angel
8. What's Good for You
9. Long Time Comin'
10. Keep Me in Mind
11. Got No Business
12. Around Again
13. Song?
Label: Eonian
Hardrock Haven rating: 8.5/10