Sacred Guardian | Sacred Guardian
by Justin Gaines
– News Editor —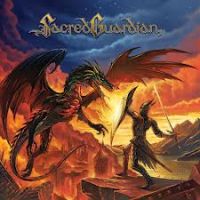 Hailing from Puerto Rico, traditional/power metal band Sacred Guardian makes their debut this year with this self-titled full-length release. While you can't always judge a book by its cover, any time you see an album cover with a fire-breathing dragon battling an armored knight, you can make a few assumptions about the kind of music you're going to hear. Namely that it will be old school and that it will at some point (or at all points) either sound like Dio or Manowar. In Sacred Guardian's case, the answer would be Dio, lots and lots of Dio.
Sacred Guardian may not be breaking any new ground here, but hey, they're adopting a formula that wasn't really broken in the first place, and you really can't have too many Dio-influenced traditional heavy metal bands. They also add a hefty dose of speed/thrash metal to the mix, which results in an overall sound that's equal parts Dio and Agent Steel. It helps that the band plays this kind of metal really well. Once you clear the obligatory instrumental introductory track, the songs on Sacred Guardian impress with their speedy riffs, crunching rhythms, soaring melodies and strong, powerful vocals.
This is really solid and enjoyable old school heavy metal. The album has plenty of heaviness to get heads banging, but the combination of the prominent melodies and Gustavo Rodriguez's dramatic vocal performances brings the album some real power. You hear it especially on songs like "Ancient Prophecy" (that one has some wicked soloing, by the way), "Knights of the Moonlight" and the title track. Towards the end we get a couple of songs sung in the band's native Spanish ("Ulises" and "Alma Immortal"), which is a cool touch.
If you're a fan of the classic traditional metal sound, particularly the Dio and Dio-era Black Sabbath and power/thrash veterans Sanctuary, Jag Panzer and Agent Steel, Sacred Guardian is a band you'll want to discover for yourself. They're also going to appeal to fans of current bands like Astral Doors and Benedictum. Go forth, Sacred Guardian!
Genre: Heavy Metal, Power Metal
Band:
Jose Blondet (g)
Raly Vega (b)
Gustavo Rodriguez (v)
Luis Roman (d)
Track Listing:
1. Intro
2. The Last Rites
3. Sacred Guardian
4. Dark Ages
5. Ancient Prophecy
6. Truth Within the Lies
7. Knights of the Moonlight
8. Majesty
9. Ulises
10. Alma Immortal
11. Norseman
Label: Stormspell Records
Website: http://www.facebook.com/Sacredguardianmetal
Hardrock Haven rating: 8/10