Testament | Dark Roots Of Earth
by Cameron Edney
– Guest Columnist —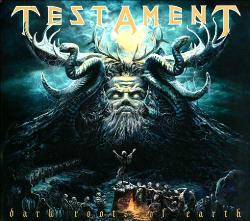 Bay area Thrash Metal legends are back with album number ten, and they're holding nothing back! Previously releasing one of the best metal albums of the past decade The Formation of Damnation set the tone for something special with this killer follow-up. Kicking off strong with "Rise Up" you can tell instantly that this track will feature predominantly in the bands live set and why wouldn't it? It's got all the ingredients to make that signature aggressive, heavy driven style we've come to love from Testament! The self-titled track is just one of many favorites found on the new album.
Renowned Heavy Metal producer Andy Sneap has done a fantastic job producing Dark Roots Of Earth whilst keeping the sound and feel one hundred percent Testament! Featuring the Atomic Clock on drums Gene Hoglan and the brilliant bass work of Greg Christian the rhythm section leaves no stone unturned when delivering pounding riffs and beats from hell! The guitar work displayed by Skolnick and Peterson throughout the entire album is by far there finest work yet, the dual guitar solos are phenomenal and vocalist Chuck Billy is at the top of his game, sounding better than ever!
Some stand out tracks on the new album include "Rise Up," "Cold Embrace," "True American Hate' and for those with the bonus track editions the covers of Iron Maiden's "Powerslave" and Queen's "Dragon Attack" are real gems.
If you've been living under a rock it's time to crawl on out and grab yourself a copy of what will no doubt be classed as the Thrash Metal album of 2012!
Genre: Thrash Metal
Band:
Chuck Billy (vocals)
Eric Peterson (guitar, background vocals)
Alex Skolnick (guitar)
Gene Hoglan (drums)
Greg Christian (bass)
Track Listing:
Rise Up
Native Blood
Dark Roots of Earth
True American Hate
A Day in the Death
Cold Embrace
Man Kills Mankind
Throne of Thorns
Last Stand for Independence
Dragon Attack – Queen Cover * Bonus Track
Animal Magnetism – Scorpions Cover * Bonus Track
Powerslave – Iron Maiden Cover * Bonus Track
Throne of Thorns * Bonus Track
Label: Riot! Entertainment, Nuclear Blast
Hardrock Haven rating: 10/10