The Murder of My Sweet | Bye Bye Lullaby
by Justin Gaines
– News Editor —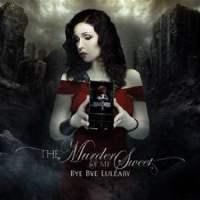 Swedish gothic metal band The Murder of My Sweet is back with a new album, their second full-length, which is titled Bye Bye Lullaby. In the two years since their 2010 debut Divanity was released, the band has gone through some changes, notably a new guitarist (Christopher Vetter) and bassist (Teddy Westlund), as well as a move from Frontiers to the AFM label. The core of the band – drummer/songwriter Daniel Flores (Mind's Eye, Tears of Anger and about a dozen other projects) and vocalist Angelica Rylin – remain, so Bye Bye Lullaby is not far removed from the style of Divanity.
The Murder of My Sweet probably falls into the Gothic metal realm, though there's nothing remotely "Gothic" (metal either, but that's something else entirely) about the music on Bye Bye Lullaby, at least not in the Sentenced or Paradise Lost sense. That seems to be the catch-all classification of metal bands with female vocalists (think Amaranthe, Delain and to some extent Evanescence/We Are the Fallen), and The Murder of My Sweet qualifies in that respect. Musically, Bye Bye Lullaby is more or less pop-oriented melodic hard rock, relying on catchy melodies and lush but not really atmospheric keyboards. There's enough crunch in the guitar sound to call this metal if you're feeling charitable, but Huntress or Benedictum this isn't. The main selling point is Angelica Rylin's vocal performance, and she does not disappoint. She has a clear, strong voice that gives these songs a good sense of emotion and drama, though she sounds like she'd be just as at home in a Kelly Clarkson/Katy Perry dance pop setting.
Bye Bye Lullaby is a very solid album, but perhaps not in a good way. It's an album you can hear multiple times and while you know on some level that it's enjoyable, you'd be hard pressed to identify one or two songs that really stand out. The vocals are pretty, as are the melodies, but beyond that there's just not a lot that makes The Murder of My Sweet stand out from a growing pack of poppy rock/metal bands with female singers. Of course if you're a die-hard fan of this kind of music that may not be a problem at all. Casual fans looking for something truly special in the genre probably aren't going to find it here though.
Genre: Gothic Metal, Melodic Rock
Band:
Andreas Lindahl (k)
Daniel Flores (d) (k) (v)
Christopher Vetter (g)
Teddy Westlund (b)
Angelica Rylin (v)
Track Listing:
1. Armageddon
2. Fallen
3. Unbreakable
4. I Dare You
5. Violently Peaceful
6. Meant to Last Forever
7. Idolize
8. Kind of Lousy
9. The One
10. Resurrection
11. Waiting for the 27th
12. Black September
13. Phantom Pain
Label: AFM
Website: www.themurderofmysweet.com
Hardrock Haven rating: 7.5/10