by Erik Tweedy
– Columnist —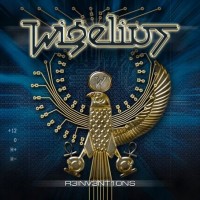 It seems every 3-4 months the country of Sweden gives all of us melodic rock fans another band to tune into. This time around it is the band Wigelius, named after the brothers Anders and Erik Wigelius. Not the type of band name that rolls off the tongue easily, but the vocals from Anders Wigelius roll off like a sweet butter roll. So tasty and leaves you wanting seconds.
The debut release from this Swedish quartet, Reinventions, brings together every '80s MTV era AOR band cliché and pop sounding pomp that one can handle in 44 minutes. Take John Waite, Nelson, Mr. Big, Richard Marx, Aldo Nova and a dash of Bon Jovi, mix that in with Swedish stalwarts House of Shakira and H.E.A.T and you have Wigelius.
Reinventions, kicks things off with the upbeat rocker "Angeline." With a crunchy guitar attack leading the way and a ballsy vocal effort by Anders that will remind the listener of Aldo Nova's debut release, melodic rock fans will immediately hear every aforementioned influence. Good stuff and a great intro track for this solid debut release. Of the 12-tracks included on Reinventions, 8 are solid up-tempo melodic rockers. Standout tracks include "Do You Really Know," "Next To Me," "I Reach Out" and the rockers "Too Young To Fall In Love" and "Piece Of The Action," which showcases the brilliant guitar work of Jake Svensson.
If you are a fan of keyboard driven AOR with excellent vocals you should really enjoy Reinventions. Several tracks provide the listener with plenty of sing along choruses and will keep your feet tapping the floor and singing along. The production is solid and the musicianship is, as expected from any Swedish AOR band, top notch. Not sure if this release will rise above a very crowded melodic rock field, but this is definitely worth purchasing if you are a fan of the genre. In 2012, country-mates, House of Shakira, set the bar pretty high with their fantastic 'HOS' release. Reinventions may not reach that level, but Wigelius should feel pretty proud of their accomplishment as they have put together a very fine debut release with Reinventions.
Band:
Anders Wigelius (Vocals)
Erik Wigelius (Drums)
Jake Svensson (Guitars)
Chris "Wielbass" Pettersson (Bass)
Track Listing:
Angeline
Do You Really Know
Hold On To Love
I Reach Out
Love Can Be That Much
My Cassandra
Next To Me
Piece Of The Action
Right Here, Right Now
Talking About Love
There Is No Me Without You
Too Young To Fall In Love
Label: Frontiers Records
Web: http://www.facebook.com/wigeliusband / http://wigelius.net/
Hardrock Haven rating: 8.2/10