Alanis Morissette | Havoc And Bright Lights
by Deb Rao
– Senior Columnist —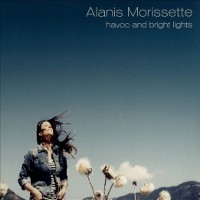 One of the top female singers to emerge in the '90s Alanis Morissette returns to the mix with her recently released album entitled Havoc And Bright Lights produced by Guy Sigworth and Joe Chiccarelli. The iconic singer first rose into the National spotlight with the release of Jagged Little Pill. This album featured many hit songs geared towards the angst of youth and torn relationships. Although Havoc And Bright Lights is not as hard-edged at Jagged Little Pill, it is refreshing to hear the singer-songwriter take a different angle and more mellow approach on her current release.
Alanis Morissette finds herself surrounded by happier times with the recent birth of her son Ever in 2010 and marriage to Rapper Mario "MC Souleye" Treadway. Sonically the artist comes full circle on Havoc And Bright Lights. Opening track and first single "Guardian" pays tribute to Motherhood. The song is rich in melody and lyrics.
Next up "Woman Down" features Alanis at her best. Feisty and hard rocking "Woman Down" is possibly one of the best tracks on the CD. It is interesting that many of the song titles are only one word. Alanis wastes no time in getting to the point of the matter. "Celebrity" focuses on the public fascination with celebrities. "Lens" showcases the way we all perceive things differently. Havoc And Bright Lights ends on a very high note with the explosive "Edge Of Evolution." This song pretty much sums up the entire album.
Alanis has a way of weaving haunting melodies with thought provoking lyrics crafted ever so eloquently with her soaring vocals in which every song becomes a journey through life. Havoc And Bright Lights paints a landscape of emotions from one of rock's most unique voices that has helped paved the way for so many female artists today. Be sure to catch Alanis on tour this Fall.
Genre: Pop Rock
Band:
Alanis Morissette – Vocals/Guitar
David Levita – Electric guitar
Zac Rae – Keyboards
Victor Indrizzo – Percussion
Track Listing:
l. Guardian
2. Woman Down
3. Til You
4. Celebrity
5. Empathy
6. Lens
7. Spiral
8. Numb
9. Havoc
10. Win And Win
11. Receive
12.Edge Of Evolution
Label: Collective Sounds/Sony Red
Web: www.alanis.com
Hardrock Haven rating: 8/10