Chris Robinson Brotherhood | The Magic Door
by Alissa Ordabai
– Senior Columnist —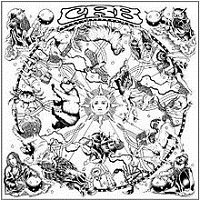 Chris Robinson's talent for emulating retro styles reaches its apogee on his new band's fresh release. Aided and abetted by roots buff Neal Casal, here Robinson churns out impeccable forgeries of the Sixties R&B, country rock, soul-blues exposés, psychedelic pop that wouldn't sound out of place as a soundtrack to an Austin Powers film, and elegant, light-footed funk-meets-disco Seventies-style extrapolations.
Recorded at the same time as the first (and more languidly lyrical) Chris Robinson Brotherhood album Big Moon Ritual, this record is a more concentrated, direct effort. Vintage keyboard sounds and the time-honored hollow-body guitar tone with its archetypal crisp, luminous sound channel a simpler, more transparent values of the golden era before corporate rock.
But far from sounding like a nostalgia-driven throwback, this is a fresh album of immaculately written songs where Robinson is sounding both self-reflective and focused, perhaps as focused as at his white-hot peak 20 years ago.
With occasional moments of wistfulness taken to real emotional depth, those traditional standards suddenly acquire a personal, almost intimate meaning beyond rehashing the blueprints. The result are lifting, heartening 50 minutes of classic Americana as relayed by one of the biggest fans of traditional American music on today's rock scene.
Genre: Rock, R&B, Soul, Soul-blues, Funk
Personnel:
Chris Robinson – vocals, guitar
Neal Casal – guitar, vocals
Adam MacDougall – keyboards, vocals
Mark Dutton – bass, vocals
George Sluppick – drums
Track Listing:
1. Let's Go Let's Go Let's Go
2. Someday Past the Sunset
3. Appaloosa
4. Vibration and Light Suite
5. Little Lizzie Mae
6. Sorrows of a Blue Eyed Liar
7. Wheel Don't Roll
Label: Silver Arrow Records
Web: http://www.chrisrobinsonbrotherhood.com
Hardrock Haven rating: 8/10