Christian Muenzner | Timewarp
by John Kindred
– Publisher —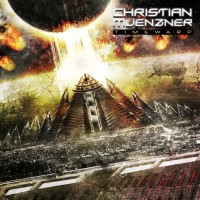 Timewarp is Christian Muenzner's first solo studio album. For the uninitiated, Muenzner is known in the death metal communities having worked with the bands like Necrophagist, Defeated Sanity and Obscura and Spawn of Obsession. Having appeared on seven studio albums, along with touring extensively, Muenzner has found time to create an album of music that dabbles within the confines of several music genres.
Muenzner's Timewarp features a heavy influence of the '80s shred guitar and combines elements from the Neo-classical movement, Jazz and fusion elements and modern metal. Joining Muenzner on his journey are Hannes Grossmann (Obscura, Blotted Science, ex Necrophagist) on drums, Steve DiGiorgio (Sadus, Death, Control Denied, Artension, Sebastian Bach, ex-Iced Earth, ex-Testament etc) and Jacob Schmidt (Defeated Sanity) on bass, Daniel Galmarini (Mercury falling) on keyboards. The album also features several guests, including Bob Katsionis (Firewind, Outloud), Ryan Knight (The Black Dahlia Murder, ex-Arsis) and Per Nilsson (Scar Symmetry, Kaipa).
Don't expect a straight-up barrage of extreme death metal tunes; Muenzner almost purposely shies away from his "day job." His focus on exploring several different genres produces a balanced album, with his solo work stretching out over up-tempo, speedy grooves. All parties involved get to stretch their legs a bit as keyboard and bass solos abound on Timewarp. It appears Muenzner is not afraid to let his friends whoop it up with him.
Muenzner really steers himself away from Death Metal clichés, as he solos over "pretty" piano melodies in Vai-esque fashion. He truly demonstrates that the genres of "metal" have produced extremely talented musicians. His grasp on melody and fluid runs are a pleasant listen. Even when there is a barrage of notes, he delivers them smoothly and with confidence. Amazingly, on Timewarp, the rhythm section gets to be itself. The drums aren't locked into the typical hard rock grooves. There are plenty of rolls, fills and double bass, making the music more dynamic.
The album contains 12 instrumental songs and clocks in at more than an hour. Shred and instrumental guitar fans will find Christian Muenzner's Timewarp an enjoyable and refreshing album to listen to. The diverse elements provided by the voicing of the keyboard and the shifting genres of music will hold your attention from the beginning to end. Christian Muenzner is an unknown talent to the many music fans who don't travel into the Death Metal genre.
Genre: Instrumental Guitar, Hard Rock, Heavy Metal, Shred
Line-up:
Christian Muenzner – Guitar
Hannes Grossmann – Drums (Obscura, Blotted Science, ex-Necrophagist)
Daniel Galmarini – Keyboards (Mercury Falling)
Steve DiGiorgio – Bass (Death, Sadus, ex-Control Denied, ex-Artension, ex-Iced Earth, ex-Testament)
Jacob Schmidt – Bass (Defeated Sanity, ex-Cerebric Turmoil, ex-Obscura (live))
Featuring guest solos by Bob Katsionis (Firewind, Outloud), Ryan Knight (The Black Dahlia Murder, ex Arsis), Per Nilsson (Scar Symmetry, Kaipa), Derek Taylor (Crimeny, Eniac Requiem, Double Ought Spool, solo artist) and Alex Guth (Stormwarrior, Born Again, Aeon's Confert).
Track Listing:
01. Maybe Tomorrow
02. Confusion
03. The Tell-Tale Heart
04. Timewarp
05. Victory
06. Rocket Shop
07. Soulmates
08. Over The Mountains
09. Wastelands
10. Dan Of The Shred
11. The Gunslinger
12. Endless Caravan
Label: Independent
Purchase the album from Shredguy Records.
Web: http://christianmuenzner.com/
Hardrock Haven rating: 9/10
Discography:
Defeated Sanity – Promo (2000)
Defeated Sanity – Talk Evolution/The Parasite (2001)
Necrophagist – Epitaph (2004)
Obscura – Cosmogenesis (2009)
Terrestrial Exiled – Duodecimal Levorotation Single (2011)
Obscura – Omnivium (2011)
Timewarp (solo album) (2011)
Spawn of Possession – Incurso (2012)