by Ron Higgins
– Columnist —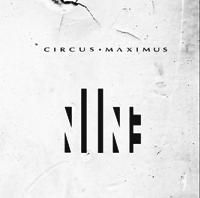 Nine is the latest release from prog-metal masters Circus Maximus and all fans of good prog metal and/or kick-in-the-teeth hard rock need to add this to their music library ASAP. The name no doubt came from the fact that there are basically nine songs on the record, but it's a bit of a misnomer given that it technically contains 10 tracks with the short instrumental tune that opens the album. If that's a mistake, it's the only one on this fine release.
Progressive music fans immediately took notice of this five-piece band from Oslo, Norway when they released their debut record The First Chapter in 2005. So much so that they were invited to play the prestigious ProgPower Festival in Atlanta two years in a row. Two years later, they released their ambitious sophomore effort, the concept album Isolate. They immediately went from the ranks of interesting new band to one of the top acts in the prog-metal genre. Fast forward a long five years and they are back with another impressive release on the highly respected Frontiers label. On offer this time are 10 blistering tracks that are hard-hitting and melodic, contemporary yet progressive. Comparisons to Dream Theater are obvious and justified.
The album starts off with a short, atmospheric instrumental tune called "Forging" that leads into an epic 10 minute masterpiece "Architect of Fortune" that sets the tone of the album right from the start. It comes complete with obligatory screaming guitars, moody synthesizers and soaring vocals. Pretty much everything that you would want or expect from a top-notch prog-metal song.
The rest of the songs are just as impressive. "Namaste" features some cool double-tracked vocals to start. Lead singer Michael Eriksen is definitely channeling Labrie on this one. It also features a cool guitar break in the middle. "Game of Life" is less progressive and much more melodic. It's still progressive though, especially the complex drumming. There's an awesome guitar solo in this one as well. "Reach Within" is a slower song. Very AOR and radio friendly. It's the softest song on the album.
"I Am" has a cool intro with guitars and synthesizers. Once the vocals start they're quite subdued and the keys take on a piano sound. As expected, the tempo picks back up with some nice guitar work. Some more tempo changes occur with yet another awesome guitar solo three-quarters of the way through. "Used" has a furious beginning. This song is extremely progressive. It has another delayed vocal intro (around one minute in) with more double-tracking vocals. This one is definitely inspired by Dream Theater. "The One" starts very slow, making the listener think they're in store for a ballad. That lasts about 15 seconds until it fires up. Midway through it slows back down, leading into some massive soloing. Another impressive track.
"Burn After Reading" is a 9 minute track (nothing says prog-metal like 9 minute songs) that has a long, slow acoustic intro. It doesn't kick in until after a full two minutes. Thirty seconds later it slows way down again and then picks back up 30 seconds later. This is definitely prog-metal material! There is impressive keyboard soloing midway through the song and then fast thrash drumming. At the six minute mark, the vocals and keys become low, almost quiet. It wraps up with a nice piano outro. Due to its length, it might've been better placed in the middle of the album instead of the second-to-last track because the final song "Last Goodbye" is yet another 10 minute track. It's a fitting end (by title and by sound) to this brilliant release. It has a soft keyboard intro with some nice acoustic guitar weaving its way through the song. This is followed by some slow Satriani sounding lead work with the tempo picking up at the 1:18 minute mark and then going full throttle 15 seconds later. The vocals don't hit until two minutes in. This has another great guitar solo mid-song with some complex drum fills. Finally, it wraps up with a mellow two minute outro that appropriately wraps up this fine third release by this Norwegian band.
Make no mistake. These guys are fantastic musicians and the production on this record is superb. If you love Dream Theater or any good prog-metal, you need to familiarize yourself with this group because, if this release is any indication, they'll be around making stellar music for a long time. Circus Maximus literally means Large Circus in Latin and was the name of the legendary sports arena in ancient Rome that sat 150,000 spectators. Back then, it was used for Roman chariot racing but today it would be excellent venue for rocking out to one of the best and newest prog metal bands in the world. All Hail Circus Maximus!
Genre: Progressive Metal
Band:
Michael Eriksen – Vocals
Lasse Finbråten – Keyboards
Mats Haugen – Guitars
Truls Haugen – Drums
Glen Cato Møllen – Bass
Track Listing:
1. Forging
2. Architect Of Fortune
3. Namaste
4. Game Of Life
5. Reach Within
6. I Am
7. Used
8. The One
9. Burn After Reading
10. Last Goodbye
Website(s): http://www.circusmaximussite.com
Label: Frontiers Records (http://www.frontiers.it/)
Hardrock Haven Rating: 9.25/10