Down | Down IV, EP1 (The Purple EP)
by Chris A.
– Photojournalist —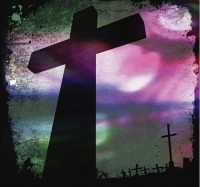 As the volume on this disc's opening cut, "Levitation" slowly and almost menacingly rises; the intensity level goes off the scale. It's a perfect opening song. It sucks you into the vibe and the buildup is awesome. That's typical of Down's form of sludge-metal musical drama. It's totally over the top giving everything they have yet managing to do it with nothing fancy. It's a testament not only to the quality of Down's music but also the genuine strength of the band's personalities. Welcome to the new Down EP 1, the first of four EP's that Down will release as part of a collection called Down IV.
As expected, Phil Anselmo's voice remains incredibly powerful and he continues to be the primary focus of band on EP 1. He's the bands leader, it's angry trademark and to his credit he's taken this band farther than any of his detractors would ever give him credit for. From Pantera, through his days with Superjoint Ritual, Anselmo has performed his music, his way and he has plenty of fans to demonstrate his success. Phil's Down train just keeps on rolling.
As for the dynamic duo on guitar for Down, Pepper Keenan and Kirk Windstein, are kindred souls, born to play guitar for precisely this kind of band. Masters of the dark licks and slow-doom-filled, stoner riffs, Anselmo may be the voice but these guys, the guitar players, are the evil soul of the band. You'll never confuse Keenan and Windstein with Satriani or Vai. These guys specialize in creating brutal, evil guitar licks ala classic Sabbath, Tony Iommi-inspired licks drip from their fingertips.
Down fans will be thrilled with the guitar playing in cuts like "Witchtripper," an in-your-face, guitar cut that seems destined for the live show. "Open Coffins" the EP's third cut, continues the albums hard-dark edge with driving riffs and cascading, mournful guitar playing.
"Misfortune Teller" is like a punch in the face with its thick, tone filled distorted guitars blowing your face off. Moving from a subtle syncopated beat moving at 100 miles an hour then grinding to a snail's pace and suddenly, attacking again, it's Down at their best.
As with previous releases by Down, the cuts on this new disc, Down IV, EP1 remain consistent and true to the style of music they have built their name on. With no surprises, no ego-filled experimentation, EP1 is a straight-forward, hard rocking album filled with solid music and dynamic presentations. Fans are going to love this album and it's only going to increase the anticipation of future of Down IV. Mark September 18th on your calendar or you can pre-order the disc directly from Down's website.
Genre: Sludge metal, groove metal, southern metal, stoner metal, heavy metal
Band:
Phil Anselmo (v)
Pepper Keenan (g)
Jimmy Bower (d)
Kirk Windstein (g)
Pat Bruders (b)
Track Listing:
01. Levitation
02. Witchtripper
03. Open Coffins
04. The Curse Is a Lie
05. This Work Is Timeless
06. Misfortune Teller
Label: Down Records / Independent Label Group
Hardrock Haven rating: 8.6/10