Druckfarben | Druckfarben
by Derric Miller
– Managing Editor —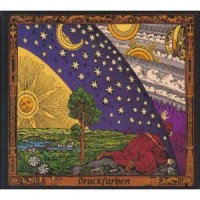 Airy, atmospheric, weird, artful … any and all of those terms apply to the new music being created by a Canadian band with a German name — Druckfarben. Their new album is at once confusing and accessible, which tend not to lay in the same bed together. The best known player in the band is Phil Naro, who you know from Talas and Tango Down and D-Drive, to name a few. The artful part is that Naro is certainly NOT the aural focal point of the band; no, that's the music, the musicianship, the compositions, and is proven by the instrumentals on the release. It all starts with an instrumental, in fact …
Leading the fray is "ELPO," a keyboard heavy, rat-a-tat-tat galloping unserious song. It's almost … goofy, if you can use that term in a complimentary manner. In fact, maybe the name is a shout out to both ELO and ALPO. Probably not, though. The musicianship is immense, from the off time rhythms to the manically precise bass playing.
Naro joins in the fun on "Influenza," and as always, his voice is a pleasure. While you might think a more thick, guttural voice would fit this type of music, Naro's crooning actually flows and becomes part of the music instead of standing apart and on its own. It's also impossible not to compare Druckfarben with Rush, especially on songs like this, with complicated, thought provoking lyrics.
There's a good chance no band has ever recorded a song called "Smaller Wooden Frog." That's the beauty of an instrumental — you can basically write one and name it whatever the hell you want, because it can mean anything and everything to the composer. In this case, it means "Smaller Wooden Frog." But actually, the song is only an instrumental for the opening three minutes, and then Naro comes in on the last two minutes to whoa-oh you a bit. Strange times …
"Dead Play Awake" is one of the … well you can't say "straight ahead" … more memorable tracks, partially because Naro is joined by another voice almost as a dueling duet, and the other singer has a more whiskey-soaked delivery, sort of like if you took a cheese grater to Ozzy's vocals chords and made them less flexible and more gritty. One component to every song you are going to be blown away by is Peter Murray's bass playing. Every member is great at their role, but how often do you hear an album and hone in on the bass playing? Almost never? You will here …
One time they slow things down is on "Seems So Real." Most of the songs seem to have a mid-tempo rhythm to them, but this one at least begins at a slower clip and does its best not to slowly race back to a more familiar pacing. It's tough to say Naro is underrated as a singer, because he is fairly well-known and owns a hefty resume, but more people need to be listening to him regardless. He shines, espcially on the higher notes, on "Seems So Real," and also delivers his vocals with honesty.
There's just a lot of facets to digest with Druckfarben. It is not an easy, laid back listen, although at times it is. Sure, that's contradictory, but it's also the truth. If you want to get into the meat of the matter, it's an album you have to listen to with a headset/earbuds. It's not often you can listen to a Prog Rock band and think "Well, don't these pompous guys take themselves seriously." Druckfarben doesn't, at least, their music doesn't convey that, because while by design their music is complicated, it's also fun. You can hear it when they play it — these guys are not showing off, they are enjoying making music. Hell, if "Smaller Wooden Frog" doesn't mirror that sentiment, you are beyond convincing.
Genre: Prog Rock
Band:
Phil Naro – Vocal, Acoustic Guitar
Ed Bernard – Guitars, Violin, Vocals
Troy Feener – Drums
Peter Murray – Bass, Vocals
William Hare – Keys, Vocals
Online: www.druckfarben.ca
Track list:
1. ELPO
2. Influenza
3. Smaller Wooden Frog
4. Dead Play Awake
5. Walk Away
6. Seems So Real
7. Nat Nayah
8. Sons Of Anakim
9. Nonchalant
Hardrock Haven rating: 7.6/10