Ethereal Architect | Monolith
by Joe Mis
– Columnist —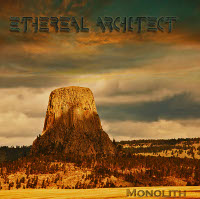 Texas and progressive metal – an unlikely pairing – but like chocolate and peanut butter these two great tastes go great together. Ethereal Architect is a four-piece technical progressive metal band from Austin, Texas, and they have recently released a solid second album entitled Monolith.
Their Texas roots helps to give Ethereal Architect a unique sound, even to the point of adding a Spanish passage or two. Their music is technical without being over-the-top, and surprisingly shows little Southern Blues-Rock influence – and while one can hear traces of Dream Theater and Opeth their sound is fully their own. Fronted by the powerful and gritty voice of Adam Contreras, Ethereal Architect's music seems to pick and choose various prog elements and builds well-crafted songs around them. Thanks to the fine efforts of guitarist David Glass and bassist Thad Stevens, the album is very guitar-driven, and keyboards are fairly noticeable by their absence as a front line instrument. Drummer Jake Koenig provides intricate supporting rhythms and moves effortlessly from tempo to tempo. The teamwork of the band is exemplary – they work very well together throughout, no matter the style, tone or tempo. Produced, engineered, and mixed by David Glass, Monolith is a superb and evolutionary follow up to their 2007 release, Dissension.
Blistering riffs and machine gun drumming open the album on an intense high, making "Kalinago" an immediate benchmark track. Contreras pushes to both ends of his range without exceeding either, and Koenig, Glass, and Stevens seem unstoppable and technically perfect. The metaphysical "Mercury" is a more progressive track featuring numerous unpredictable tempo changes and tones (including an acoustic Spanish guitar outro) – and a showpiece for Koenig's manic drums. Glass's keyboards are finally noticeable on the epic 9-minute "Obsidian," and his guitars set the moody atmosphere well. Vocals, drums and bass all combine smoothly with sweeping acoustic passages to make this unique track the best example of Ethereal Architect's sound. Sweeping acoustic passages and a flowing rhythm line are very appropriate for "Oceans," a radically different track from the previous ones. The band once again changes pace with "Final Escape" by moving to a somewhat thrashy rhythm riff and a vaguely Rob Halford style vocal line.
"Revolution" moves Ethereal Architect into the realm of symphonic metal. This track features some of the most technical and interesting guitar work on the release – a job well done by the entire band. The mostly acoustic "Obscura" features some great vocal work and self-harmonies, in many ways reminiscent of the later Savatage releases. Bass and guitar truly shine on this track, particularly during the soft Spanish language passage at the close of the song. "Bardo Becoming" is another highly technical progressive track with some interesting tempo changes, while "Submission" opens with some outstanding soft guitars and becomes a great mid-tempo prog rocker. The album wraps with a well done cover of Jimmy Webb's ballad-like "MacArthur Park."
If you are into progressive metal and are looking for a band that takes an evolutionary step without leaving the genre, look no further than Ethereal Architect. Their music is definitely progressive, but Ethereal Architect produces a varied and mature style of melodic prog free from the standard cliches, and they deliver with technical proficiency. These four Texans prove that the American progressive metal scene is still alive, growing – and most importantly, evolving. Highly recommended!
Genre: Progressive Metal
Band:
Adam Contreras (vocals)
Jake Koenig (drums)
Thad Stevens (bass)
David Glass (guitar, keyboards)
Guest Vocalists: Aaron Welch, Serafia Jane, Ken Liao, Raynor Choate, Rick Clark, Drew Heaton
Track Listing:
1. Kalinago
2. Mercury
3. Obsidian
4. Oceans
5. Final Escape
6. Revolutions
7. Obscura
8. Bardo Becoming
9. Submission
10. MacArthur Park
Label: Unsigned
Website: http://etherealarchitect.com/
Hardrock Haven rating: 8.5/10