Hell To Pay | Time to Rise
by John Kindred
– Publisher —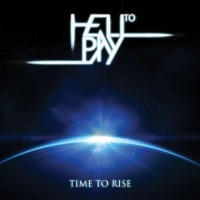 Hell To Pay is an up-and-coming band from the U.K. Their latest EP release Time To Rise follows up the 2011 EP, So Far … So Good. Founded in 2010, the band has been generating quite a buzz in its home country. Winning 2010's 106.1 Manchester Rock Radio's Battle of the Band's competition catapulted the group into opening for Rise to Remain and Holy Grail. Since then, they have shared the stage with former Iron Maiden vocalist Blaze Bayley and Dave Evans, ex-AC/DC singer. After their release of last year's EP, they embarked on their first headlining tour in the U.K.
With their latest EP release, Hell To Pay continued to build on a solid foundation, which obviously is the strength is the vocals. The EP contains four songs that fall within the hard rock, almost metal, genre. Musically, what we get is not the reinvention of the wheel. It's not necessarily originality that Hell To Pay brings to the table, but their fire and spirit make up for the lack of it. The riffs and solos showcase a strong sense of accomplishment, while the rhythm guitars have a less-than-desirable sound. The drums don't fare much better, with an overly loud snare that sounds a little too tinny.
What the EP lacks in production is made up with heart. And as the song "Blown It All Away" opens the disc with an energetic charge, it's Martin's voice that grabs your attention. He's got "it;" what more can be said? The character of his voice has strength and projects much like Robert Mason's (Warrant, Lynch Mob), Todd Michael Hall's (Reverence) or even Tommy Shaw's (Styx). His voice jumps out right at you with clarity and conviction. The second whammy is that the solos almost equal the brilliance of Martin's voice. Again, for whatever reason, the solos have a nice clarity, are audible and shred but not to distraction.
The songs are good. It is apparent that Hell To Pay is learning its craft and building its musical identity. With that said, Time To Rise provides insight into what may come from the band in the future.
Genre: Hard Rock, Metal
Band:
Dan Martin – Vocals and Guitar
Dario Nikzad – Guitar
Tom Henstock – Drums
Label: Independent
Hardrock Haven rating: 7/10