by Cynthia Jo
– Columnist —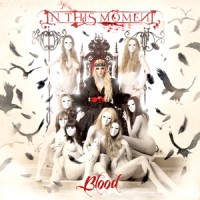 Time and time again, there always will be that band that angst teenage girls will be able to relate to — whether that is Joan Jett, Lita Ford or Chrissie Hynde. When In This Moment's debut album Beautiful Tragedy came out in 2007, the world was presented with a metal core band with a definite female singer with much talent and poise that girls from any age can relate to. A year later, their more pop-driven sophomore album, The Dream, debuted on the Billboard top 100. A Star-Crossed Wasteland brought them back to their heavier roots, and despite a never-changing lineup, the Los Angeles natives have created a fourth album quite different, yet heavy, titled Blood.
Going into a much more electronic direction and surpassing their creativity level, In This Moment have taken their talent to embrace what most bands are incorporating — a sound resembling Marilyn Manson in a mix of industrial metal core. Catchy to its fullest, guitarist and original member, Chris Howorth, demonstrates his ability to create a memorable riff; however, it isn't groundbreaking.
The eight-track "Scarlet," has a fantastic acoustic introduction and ferocious vocals by Maria Brink. Brink is quite the eye candy for this band, but it's a shame that the talent that once shined in The Dream is shut in Blood. The self-titled track is a repetitive offender that seems more of an anthem of self-destructive nature and shouldn't have been chosen to represent the album as neither the single nor in its entirety.
The first half of the album includes "Adrenalize," a song about sex but loses all credit for a female empowerment theme. However, the way Brink uses all her force to sing it as well as "Whore," she makes it likeable to an extent. The fifth track "You're Gonna Listen" brings to life a melodramatic anthem that will have girls and, perhaps even boys, singing along. "From the Ashes" delivers the band's overall talent. Although this might not be a good choice for a single, it represents what In This Moment is made of and is the best song of the last half of the album. Lyrically, the album is female empowering at some level. Musically, it's not the best In This Moment has come up with throughout the years; perhaps the lineup will change again, and the fifth album will take on a better musical direction.
The album will excel in sales because of the band's large following, which has embraced the band since its debut, Blood definitely is an over-produced album that people are just going to have to get over and embrace for what it is: A juvenile lyrical infused, electro-metal-core album that will be forgettable by the time In This Moment delivers what they're capable of producing.
Genre: Metal-core
Track Listing:
1. Rise With Me
2. Blood
3. Adrenalize
4. Whore
5. You're Gonna Listen
6. It Is Written
7. Burn
8. Scarlet
9. Aries
10. From The Ashes
11. Beast Within
12. Comanche
13. The Blood Legion
14. 11:11
Band:
Maria Brink
Chris Howorth
Travis Johnson
Tom Hane
Randy Weitzel
Label: Century Media
Website: inthismomentofficial.com/
Hardrock Haven rating: 7.5/10