Julian Angel's Beautiful Beast | California Suntan
by John Kindred
– Publisher —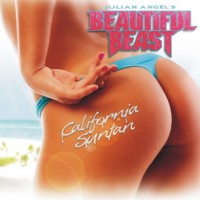 There was a time when the likes of White Lion, Poison and Warrant all ruled the airwaves. Their success spawned a throng of copycat bands, some pretty good, but most not so much. With the current retro vibe pushing for the return of the metallic hairspray, spandex and mascara-crazed bands, Julian Angel steps up to the plate with Beautiful Angel. Their second offering is titled California Suntan, and it serves up hard rock that continues to profess the return of "Hair Metal."
California Suntan features 10 songs, plus a bonus track on the CD version "Gimme Just One Night," and two bonus tracks on the online-ordered album. Angel truly captures days gone by with an album that has an audio presentation that is a complete throw back to the 1980s. For those that lived it, the clichés are familiar, and there are prominent guitar solos mixed in with gritty vocals.
Speaking of vocals Angel's voice, it is a combination of Mike Tramp, Phil Lewis and lots of grit. If you combine that with his guitar skills, it creates a solid foundation for his retro-epics. The lyrics aren't serious political calls to arms. Most of the songs gravitate to those huge arena-style sing-along choruses that dominated the airwaves back in the day, when lighters (or now cell phones – how daft is that) were held out high as concertgoers swayed in time to beat of the drummer.
Catchy rhythmic hooks, a la Van Halen or White Lion, carry the vocal melodies from song to song. You would swear that album originally was released in the '80s. It's great to see a modern-age musician let his hair down and embrace a genre of music that he loves. It is obvious Angel did not feel the pressure to join the modern metal world, which has become moody and despondent. With Angel, the music hasn't flat lined and continues to produce a steady beat.
For fans of fun, energetic rock tunes, Angel's Beautiful Beast offers a pleasant flashback to another era. It doesn't deliver much in originality, but honestly, it is a continuation from when most "hair metal" bands went on hiatus in the early '90s.
Genre: Hair Metal, AOR, Glam, Sleaze
Band:
Julian Angel: Vocals, guitar, bass, piano, keyboards
Jesse Curse: Drums/Percussion
Track Listing:
1. Wet Wild Willing
2. Dance Little Sister
3. Rockschool
4. Cry Cry Cry
5. You Better Love Me
6. Fair Weather Friend
7. Addiction To The Friction
8. Wet Hair In A Waterride
9. Friday To Sunday
10. Something In The Air
11. Gimme Just One Night
Label: Platinum Blonde Records
Website: www.beautifulbeastrock.com
Hardrock Haven rating: 7/10