Liv Kristine of Leaves' Eyes
by Joe Mis
– Columnist —
Liv Kristine, the dynamic solo artist and vocalist of the symphonic metal band Leaves' Eyes, has just released her fourth solo album entitled Libertine to solid reviews. The Norwegian-born singer, while perhaps best known for her folk-metal work, is truly a well-rounded vocalist and songwriter, and her current release proves it. Libertine is not a symphonic metal release, but rather a fluid and modern rock album – although occasionally some metal (and jazz, and maybe just a little pop) shine through.
Liv has graciously volunteered to answer a few questions for Hardrock Haven.
-=-=-=-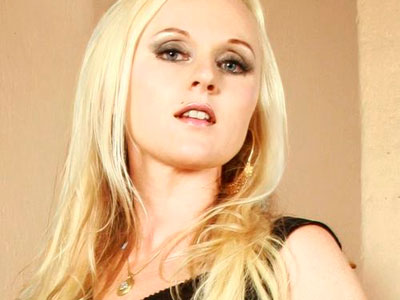 Hardrock Haven: Hi Liv! Thanks for taking the time to visit with Hardrock Haven. Congratulations on the release of Libertine – a very good and very diverse collection of music.
Liv Kristine: My pleasure! Thanks for having me!
Hardrock Haven: Please tell our readers a little more about yourself and what inspired you step out from Leaves' Eyes to do another solo album.
Liv Kristine: This is my fourth solo album, next to my four releases with Leaves' Eyes. Libertine which just came out, is an album going back to the roots, to my years with Theatre of Tragedy. I have to tell you that I feel truly privileged. First of all I am grateful to my fans and friends for giving me all this respect, love and good energy, some of them following me since my ex-band Theatre of Tragedy came into existence about 17-18 years ago. My fans have granted me this freedom I appreciate so much. Through both Leaves' Eyes and my solo project I am able to live out my musical instinct. There has never been a day since I at the age of 7 realized that I had been given a special musical gift genetically. Since my childhood there has never been a day at which I haven't been creative in some or the other way. I just love singing, composing, writing, recording and most of all playing gigs!
Hardrock Haven: Libertine is very different in sound and genre from your work with Leaves' Eyes. How different is your songwriting process when you write for yourself rather than the band?
Liv Kristine: When composing for Leaves' Eyes most ideas are recorded instrumentally by Alexander, Thorsten and Sander at first. Then I start working on my vocal melodies and lyrics. A solo album song-writing process mostly runs in the opposite direction: initially there's a vocal melody or a single bass or piano line from which all songs start growing.
Hardrock Haven: The musicians you've worked with on Libertine are all extremely talented. Please introduce them to our audience and maybe tell us how you all got together.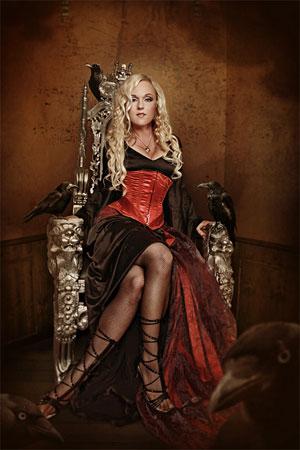 Liv Kristine: True, I am very grateful to have such a first-class team with me. My husband, Alex, produced the album. J.B. Van Der Wal was responsible for electric and acoustic guitars, bass, keys, and programming, whereas my longtime friend Thorsten Bauer played the electric and acoustic guitars, bass and keys. Felix Born played the drums & percussions, Alessandro pantò played the piano. Christoph Kutzer the cello. The music was composed by myself, in cooperation with J.B. Van Der Wal, Thorsten Bauer and Alexander Krull, (except "The Man with the Child in His Eyes" by Kate Bush). All the lyrics are mine, as well as the paintings inside the booklet. Tobias Regner did the guest vocals on "Vanilla Skin Delight."
Hardrock Haven: I know your husband Alexander Krull produced Libertine, and also co-wrote some of the songs. Is it difficult to work so closely with your spouse on something that is so deeply personal?
Live Kristine: True. Alexander produced the album at our own Mastersound Studio. We are very privileged to have our own studio, and it is superb having my husband next to me. He, and my guitar player Thorsten, know me the best. Both of them know how to push me just a little bit further… and in the end, I am so happy to have achieved a new goal. Their opinions mean very much to me. Of course we do have discussions sometimes, I mean, we are all perfectionists and very stubborn, however, we always come up with a perfect solution.
Hardrock Haven: We know you are used to sharing vocals with Alexander when you work with Leaves' Eyes. How different was it to work with Tobias Regner on "Vanilla Skin Delight?"
Liv Kristine: We met through a common friend, luckily, as my band mates suggested that we look for a guest-male voice for Vanilla Skin Delight. 48 hours later he knocked on the studio door of Mastersound Studio and we became friends straight away! We had so many stories to tell. He is a true professional and he did such a great job in front of the microphone. I really hope we will be able to perform this song together some day.
Hardrock Haven: My favorite from the album was definitely "Silence" and considering the wide range of styles you cover almost everyone will have a different favorite. Tell us a little about YOUR favorite tracks from Libertine, and what inspired them.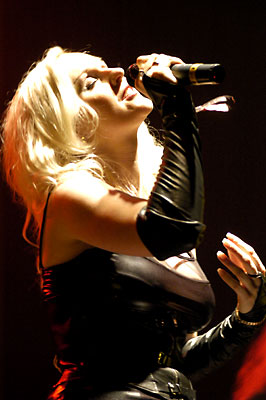 Liv Kristine: If I'm allowed to say so, "Silence" is one of my definite favorites of the album as well. Just how much I love music and composing, I do love the silence of nature even more. I grew up by the sea in complete peace and calamity. I need it, silence, to gain new inspiration, come up with interesting ideas, and, most of all, to recover. The track "Love Crime" was originally one single melody for the vocals, nothing else than that. Then I decided to let the piano follow the vocals. My piano player, Alessandro, played it in such a lovely way, absolutely perfect! It probably reminds you about "A Distance there Is." " Paris Paris" was actually a demo song I prepared for Theatre of Tragedy, but it was never recorded. However, I re-wrote it for fun using the program Garage band. My co-musicians loved it and all the instruments were recorded new. It is definitely a very refreshing song! The video clip is online as well. I've visited Paris many times, and by and by I've learned to enjoy this city, with its small cafes on the street corners, serving even the smaller cappuccino. Charming.
Hardrock Haven: Why "The Man With a Child in His Eyes" as a cover tune?
Liv Kristine: Kate Bush and Tori Amos are truly my greatest influences vocally. Since I never had any musical education I have found my own way to prepare my voice before a concert or recording session in which I sing along to either of these wonderful voices. It was my best friend, Katja, who had this idea that I should cover Kate. During one of our girls' evenings… parties… I started singing from the top of my voice along to Kate… the next day I was worried what the neighbors would say. Katjas neighbors did not complain… and my friend inspired me to record the track for Libertine. It happened in a one-take session. I just love Kate. She is absolutely outstanding.
Hardrock Haven: Overall, how do you feel Libertine differs from your previous solo releases?
Liv Kristine: Dues ex Machina was very atmospheric, reminding you a bit about Irish Enya, a real pop-album. Enter My Religion was more guitar-based and earthly with many interesting exotic folk influences. Skintight had some influence from J. Cash, which sometimes gives the listeners a warm and here-and-now camp-fire feeling experience. Libertine is a back-to-the-roots album, containing the most emotional ballads I've ever composed, it even has a dark but sweet feeling to it, through both the piano, the dark bass lines and guitars. I see every album becoming more and more individual, just like I am getting closer to myself. I would say all of my albums are somehow indie, pop or rock.
Hardrock Haven: You've covered so many genres in Libertine, everything from rock to pop to jazz. Do you see yourself more as the "female-fronted Gothic metal" singer or the more diverse, perhaps "radio-friendly" pop-rock singer?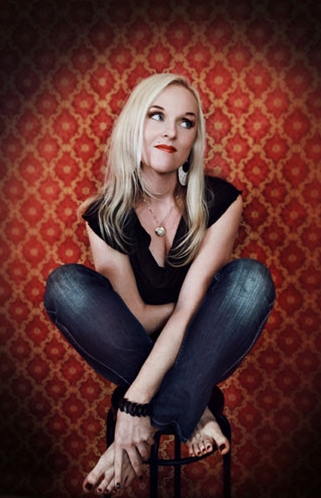 Liv Kristine: I definitely need both, or lets say, I need ALL the freedom I can possibly get to move freely within my artistic world and dreams. I am incredibly lucky: my fans have always been there for me all these years. The main difference between Leaves Eyes and my solo band is rooted within the musical genres: Leaves" Eyes is a metal band, influenced by Scandinavian and Irish traditional folk music, moreover, Norse mythology and Viking history when it comes to lyrics and concept. My solo project is probably at home in the genre of indie rock-pop music. I grew up with e.g. Black Sabbath, Edvard Grieg, and Abba, i.e. a lot of varied and interesting musical influences. I believe I was born with a creative heart and mind and I do need to develop, to spread my wings within music and art generally, which also means to be involved with different musical styles.
Hardrock Haven: So what's next for you? Tell us a bit about your upcoming tour schedule, and when we can expect new material.
Liv Kristine: At the moment we are on tour. I've really been looking forward to this tour! We will play at places and venues we've never played before, like in Belfast. Firewind is such a great band with outstanding musicians and lovely people. We already met Gus, even his family, some times lately, having a drink at the German Musikmesse, moreover, we met backstage at an Ozzy Osbourne concert. This tour is probably the best tour so far in my career, I am, we all are, having such a good time, although touring is quite hard for both body and mind.
Hardrock Haven: And finally, is there anything else you like to share with our readers?
Liv Kristine: I thank you for being there for me all these years, with Theatre of Tragedy, Leaves'Eyes and my solo work. I hope you enjoy Libertine as much as I did composing and recording it. I can't wait to play it live for you!
Hardrock Haven: Thanks for taking the time to once again visit with Hardrock Haven. Good luck and much continued success!
Liv Kristine: I thank you! Take good care!
For more on Liv Kristine, visit http://www.livkristine.com/
For more on Leaves' Eyes, visit http:// www.leaveseyes.com/
For HRH's take on Libertine, visit: http://hardrockhaven.net/online/2012/08/liv-kristine-libertine/