LIVE! | Adelitas Way Uproar Festival 2012
by Chris A.
– Senior Photojournalist —
September 8, 2012 at the Uproar Festival in Indianapolis, IN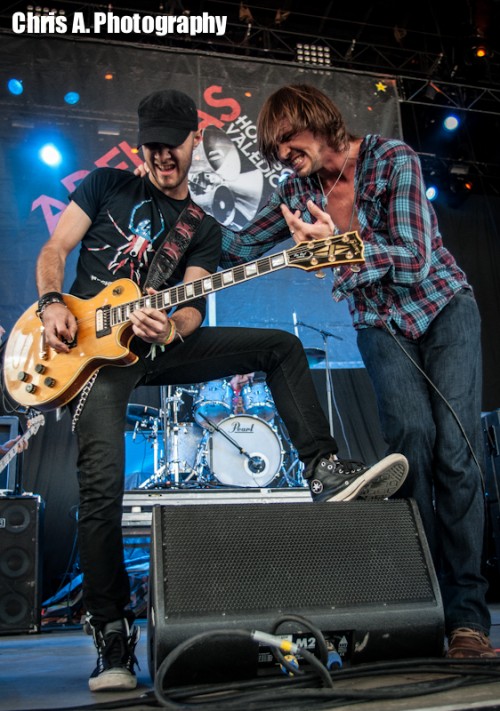 The 2012 version of the Uproar Festival is currently winding its way around North America with headliners Godsmack and Shinedown reaping the majority of the media reviews. Sharing the main stage with these giants of rock were Adelitas Way, a quintet of talented musicians based in "Sin City" (Vegas) who have been crisscrossing America the past few years turning rock fans onto their brand of "anthemic rock n' roll."
Let's get it over with for those who don't know the story. Why is the band called "Adelitas Way"? Apparently while touring Southern California, Rick DeJesus and his buddies made a wrong turn and ended up across the boarder in Mexico where they were hoodwinked and robbed by dirty cops. With limited resources they decided to pound a few cold ones and regroup at a Mexican whorehouse called "The Adelita". So there you go.
They made their mark on the industry with their 2009 self-titled album "Adelitas Way" featuring the single "Invincible". While filled with heavy guitars and often explosive drums, the band still projects a somewhat radio-friendly "pop" feel that has helped move some of their music to the mainstream. Songs by Adelitas Way have been featured by a number of television productions, sporting events (it was the "official" theme song for the WWE Superstars), and much more.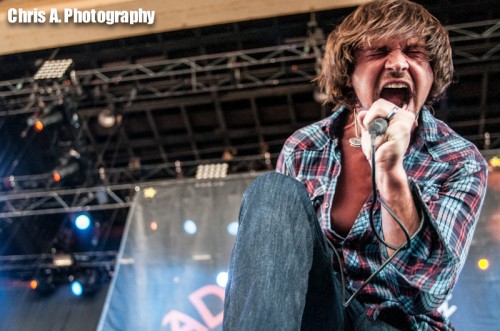 The band is currently on the Uproar Tour promoting their second disc "Home School Valedictorian," which was released in 2011. From the live concert perspective, Adelitas Way is a very enjoyable rock n' roll band with emotive songs. When you see them live, you get the sense that the best is yet to come from this young band. Perhaps the most difficult challenge facing this young band is to distinguish themselves from all the other post-grunge, emotive rock n roll bands.
On stage, the band is powerful, confident and they sounded exceptional. It's easy to tell that the band loves to perform live. As so often happens, their songs seem less "poppy" when belting them out live in comparison to the album cuts. Frontman, Rick DeJesus is emerging as a vocal force in rock n' roll and worked the stage and performed the songs with passion. Lead guitarist Robert Zakaryan is nothing short of a world-class shredder as he cut loose on his maple-top Les Paul Custom, tearing it up with licks that Zakk Wylde would find impressive. For fans who have seen Adelitas Way perform over the past few years, it's obvious that the years of touring are rewarding the band with increased maturity, stage presence, musical skills and confidence.
If you have a chance to see Adelitas Way, do it. Give this band a try and you'll discover that they are musically sound and have a great potential to make a decisive mark in the diverse world of rock n roll. For more information about Adelitas Way visit http://www.adelitaswaymusic.net for tour information.
Band:
Rick DeJesus – lead vocals
Keith "KWB" Wallen – rhythm guitar, backing vocals
Robert "Rahji" Zakaryan lead guitar
Derek "DB8" Johnston – bass guitar
Trevor "Tre" Stafford – drums, percussion
Adelitas Way Uproar Festival 2012 Photo Gallery
no images were found