by Alissa Ordabai
– Senior Columnist —
September 14, 2012 at the Borderline in London, UK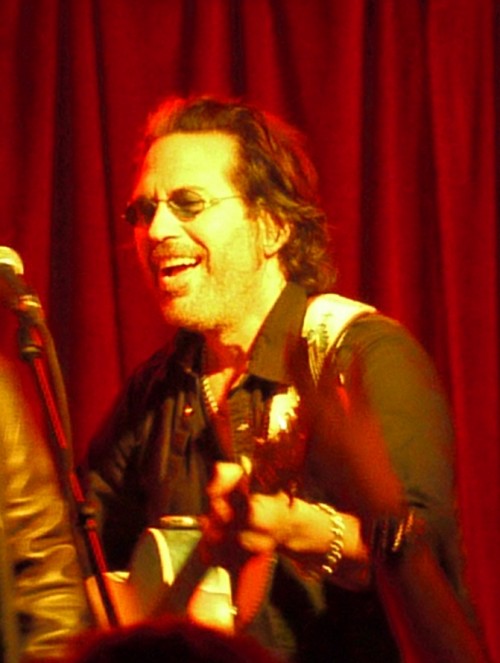 Kip Winger does those acoustic stripped-down shows once in a while in London – small club gigs where he appears armed with just his acoustic guitar and his voice. The latter is his most deadly weapon and the main draw – an arena-size voice that epitomizes the grit, the range, and the nuanced articulation of an A-grade hard rock vocal performance. Bouncing against the walls, threatening to blow the roof off a small venue, and – simultaneously – blow the mind of every Brit in the crowd who may have forgotten how hard rock vocals is supposed to sound at its best – Kip Winger tonight was on fire, reminding us all that with real pros isn't all about high-pitched screaming, growling, or trying to squeeze the last drops of lemon juice from a pipe that sounded its best sometime circa 1975.
It is really stunning in what good shape Winger's voice is at his age (51, apparently, as he confessed to the crowd during one of his onstage banter moments), and what focused conviction he carries in the most basic, fundamental postulates of hard rock, while projecting it so organically from the stage.
And the reception given tonight to Winger was close to ecstatic – with "Winger is God" hand-written A4 cards in the audience, everyone singing along to the old 80s hits, but also knowing each of his solo songs, and chanting for their personal faves. A fan from New York who happened to be in the crowd on the night and told everyone it was his birthday was invited on stage to sing "Miles Away" with Kip, and this was perhaps the warmest, most heartfelt moment of the show – everyone celebrating Winger's songs, the fan, and each other in a spontaneous eruption of music-fueled camaraderie.
Rooted in the hopeful, life-affirming postulates of the 80s American hard-rock – with perhaps a dash of knowing sharpness coming through the more reflective passages of the more recent songs – Winger is the torch-bearer for something that was simple, yet so compelling during that decade. Never aiming to be high-brow, never bartering the familiar formulas for compositional or semantic complexity, and for that reason always transparent and accessible – tonight he was the essence of the genre distilled through a simple – at times perhaps over-simplified – acoustic-guitar-and-voice arrangement.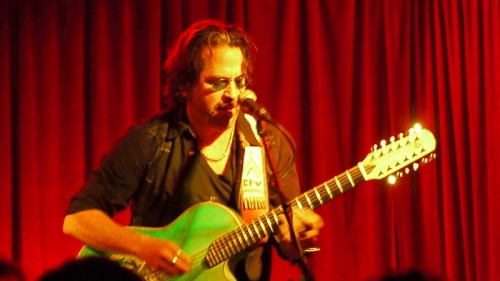 All the cerebral and aurally opulent stuff was reserved this week for his orchestral compositions. During Winger's current visit to the UK, London's Saddler's Wells Theatre is hosting three performances of Ghosts by the San Francisco Ballet to which Winger wrote the music. "My whole purpose is to write the best music I can write," Winger told to this writer back in 2010 a few weeks before the premier of Ghosts in San Francisco. "I just happen to be interested in more genres than one. My image solely serves the purpose of music. When I show up at a Winger show, I will be in a pair of boots and a shirt, but I don't think about that anymore, I'm over that."
Back at the 500-capacity Borderline club – and yes, dressed in jeans, a pair of boots and a shirt – Winger came through as an absolute, A-grade professional. And if there was too much of the familiar and the rehearsed (if not mechanistic) in his performance, if there wasn't much space for experiment, and if he relied largely on his personal conventions, as well as on the conventions of the genre, this was still what London needed to hear – a top-notch hard rock pro in top form. Something that we in the UK more often than not now get to hear from visiting Americans, and less and less often from our own, especially in a club setting.
Set List:
1. Cross
2. Easy Come Easy Go (Winger song)
3. Who's the One (Winger song)
4. Steam
5. Headed for a Heartbreak (Winger song)
6. Blind Revolution Man (Winger song)
7. Free
8. Miles Away (Winger song)
9. Hungry (Winger song)
10. Rainbow in the Rose (Winger song)
11. Under One Condition (Winger song)
12. Can't Get Enuff (Winger song)
13. Deal with the Devil (Winger song)
14. Down Incognito (Winger song)
15. Nothing
16. Every Story Told
17. Spell I'm Under (Winger song)
18. Madalaine (Winger song)
19. Seventeen (Winger song)
20. Blue Suede Shoes (Winger song)