Queen | Greatest Video Hits
by John Kindred
– Publisher —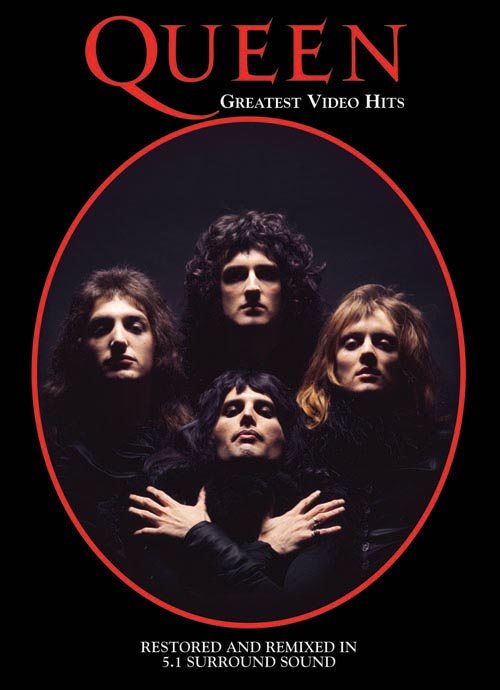 For those who can't get enough of Queen, Eagle Rock Entertainment delivers a two-disc DVD set of the band's performance videos. Greatest Video Hits comprises more than three hours of Queen's promotional videos from the 1970s and '80s, 33 videos in all. The collection has been digitally re-mastered in DTS 5.1 Surround Sound. Additionally, commentary from current Queen guitarist Brian May and drummer Roger Taylor is included.
DVD 1 covers the 1970s to '80s and highlights songs, such as "Bohemian Rhapsody," "Somebody to Love," "Killer Queen," "We Will Rock You, " "We Are The Champions" and "Flash." While DVD 2 covers the band's videos released from 1982 to '89, it also includes videos from the Highlander movie "One Vision" and "Prince of the Universe."
Greatest Video Hits showcases original band members Freddie Mercury, Brian May, Roger Taylor and John Deacon and an exploration of the creative nuances and visual interpretation of their music. Whether referencing the original 1927 cinematic milestone Metropolis, "Radio GaGa" or tantalizing us with the visual spectacle of "Bohemian Rhapsody," the band was was pushing the boundaries of their creativity.
The video retrospective will appeal to those fans who love the visual experience as much as the audio.
Queen was a band willing to travel down many unconventional paths, normally held sacred in the rock community. What was taboo for many was a means to their own self-expression. Their legacy is filled with heavy aggressive anthems as well as quiet and spellbinding ballads. May's guitar, Freddie's voice matched with Deacon's bass and Roger's percussion are the essential building blocks that made Queen a huge success.
Genre: Classic Rock, Rock
Band:
Freddie Mercury (v)
Brian May (g)
Roger Taylor (d)
John Deacon (b)
Track Listing:
Disc #1):
Bohemian Rhapsody
Another One Bites The Dust
Killer Queen
Fat Bottomed Girls
Bicycle Race
You're My Best Friend
Don't Stop Me Now
Save Me
Crazy Little Thing Called Love
Somebody To Love
Spread Your Wings
Play The Game
Flash
Tie Your Mother Down
We Will Rock You
We Are The Champions
Disc #2:
A Kind Of Magic
I Want It All
Radio Ga Ga
I Want To Break Free
Breakthru
Under Pressure
Scandal
Who Wants To Live Forever
The Miracle
It's A Hard Life
The Invisible Man
Las Palabras De Amor
Friends Will Be Friends
Body Language
Hammer To Fall
Princes Of The Universe
One Vision
Label: Eagle Rock Entertainment
Hardrock Haven rating: n/a