Richie Sambora | Aftermath of the Lowdown
by Alissa Ordabai
– Senior Columnist —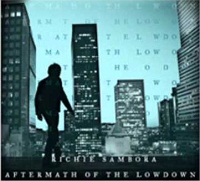 There is nothing wrong with tapping into the mainstream 50-plus demographic as Richie Sambora is doing on his new solo release. After all, this kind of market has always been recession-proof. It's just that the lyrics about "politicians feeding scripted lies" don't sit well with country pop schmaltz, done-to-death soft-rock Jovi-esque faux confessionals, and pop-punk which are all as sleek, rehearsed, and unspontaneous on this album as any pronouncements you hear these days from the White House or from Downing Street.
Sambora's guitar leads are given modest exposure on this record, and it's the songwriting that is to the fore. All songs – except one – are written in collaboration with producer Luke Ebbin and oscillate between imitations of the old pathos-laden old Bon Jovi anthems (even with the same vocal intonations and mannerisms), R.E.M.-meet-Coldplay pseudo-epics, easy clichéd rock, and the Beatles-inspired piano-driven ballads.
It's hard to know which of those styles is Sambora's true voice. It is perhaps not any particular genre that defines him, but the smooth, craftily forged, easy-on-the-ear way he writes the melodies which roll along the beaten track without a single twitch (never mind rush) of spontaneous emotion, without taking any risks or simply detours from the familiar, perhaps for fear they would make listeners think or feel something unusual.
Sambora's guitar solos are, however, less sleek and less reiterative than his songwriting. There aren't many of them on this album, but there is a standout lead on the highlight "Seven Years Gone" which sounds more erratic than chopsy or melodic, and some standard-issue rock leads on "Burn that Candle Down" and "Sugar Daddy." It's difficult to imagine this stuff being a revelation to anyone, but this is perhaps the purpose of this album – to serve as a soundtrack and a lift to the everyday occurrences such as trips to work and weekly shopping. A lift not too elevating but still pleasant enough to numb the pain and the boredom of everyday routines.
Genre: Soft Rock
Personnel:
Richie Sambora – vocals, acoustic and electric guitar
Aaron Sterling – drums
Matt Rollings – piano, organ
Curt Schneider – bass
Rusty Anderson – guitar
Roger Joseph Manning, Jr. – keyboards
Track Listing:
1. Burn That Candle Down
2. Every Road Leads Home to You
3. Taking a Chance on the Wind
4. Nowadays
5. Weathering the Storm
6. Sugar Daddy
7. I'll Always Walk Beside You
8. Seven Years Gone
9. Learning to Fly with a Broken Wing
10. You Can Only Get So High
11. World
Label: Dangerbird Records
Online: http://richiesambora.com
Hardrock Haven rating: 5/10