Steve Vai | The Story of Light
by Alissa Ordabai
– Senior Columnist —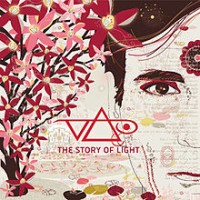 The gnawing question of what songwriting direction the ultimate guitar hero has been busy devising for himself for 7 years – while not releasing any new studio material – has finally been answered. Steve Vai's spanking new, lavishly liner-noted and illustrated CD has now hit the stores, and we suddenly learn that there is no new direction. The Story of Light is all about same old-same old, telling us nothing new about Vai as a composer or a guitarist.
All key traits and mannerisms of his musical character are reinstated on this release with all the familiar quirks and accents intact, only this time projecting a calmer and a more restrained mood. There is Vai's trademark penchant for pseudo-mystical theology as on the title track with its pronouncements about creation, its manifestations, and its essence recited in Russian over a Vangelis-meets-Yes pomp-rock arrangement. There is also his propensity for kooky traveling circus fun instilled in him by Zappa all those years ago, as well as his devotion to languid, confidential guitar intimations such as on "Creamsicle Sunset" and "Mullach a'tSí". And then there is – of course – his love for swaggering rockers such as "Gravity Storm" executed with that familiar decoy trick where he teeters on the verge of all-out rock n' roll abandon only to catch himself each time just before letting go, to turn the whole thing into a Mardi Gras masquerade.
"Gravity Storm" is to "The Audience is Listening" what "Creamsicle Sunset" is to "Feathers" – minified, humbler stabs at conveying the same reality Vai used to be able to reveal so spectacularly in his prime. The cover of "John the Revelator" imitates Zappa's broad roots music brushstrokes, but – unlike his mentor – here Vai can't decide between self-irony and genuine warmth.
But as if to prove that not everything on this record rehashes previous discoveries, prog-meets-pop Eighties-style schmaltz suddenly rears its head in the form of "The Moon and I" – an extensive, hauntingly eerie guitar expedition blemished by a saccharine vocal melody courtesy of Vai himself. There are also gratuitous displays of dizzying guitars chops such as on the demo-like "Weeping China Doll" – the kind of showing-off Vai hasn't been known to indulge in before, simply because proofs of technical ability up until now have never been necessary. "No More Amsterdam" is a slightly out-of-focus Bowie-esque melancholy ballad summarizing the listlessness of the second half of the record on par with "Sunshine Electric Drops" that follows – another demo-like sketch conveying an inert, lukewarm atmosphere of an artist doing little apart from reiterating his own personal clichés.
It is unclear what kind of final proof Vai was seeking or presenting with this release. If it's the proof that he is still very much loved in the rock world, then no new album – no matter how bland or predictable – will ever diminish his status. If it's the proof of the fact that he can still write, then the new record shows that he still can, although he isn't telling us anything new.
They say that opening new doors and moving on to new things requires curiosity, and curiosity – it now seems – is the ultimate (and forever elusive) holy grail for those who want to stay creative. Here it proves to be even more sacrosanct than theology, esotericism, and mysticism put together, whose alleviating answers are at times so tempting in comparison with the brutal truths contained in all true art.
Genre: Hard Rock, Instrumental Rock, Progressive Rock
Track Listing:
1. The Story of Light
2. Velroum
3. John the Revelator
4. Book of the Seven Seals
5. Creamsicle Sunset
6. Gravity Storm
7. Mullach a'tSí
8. The Moon and I
9. Weeping China Doll
10. Racing the World
11. No More Amsterdam
12. Sunshine Electric Raindrops
Label: Favored Nations
Web: www.vai.com
Hardrock Haven rating: 6/10