Tango Down | Identity Crisis
by Derric Miller
– Managing Editor —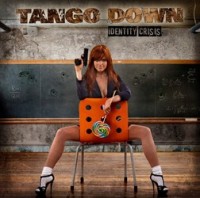 Three albums in, and the talented Tango Down are on their third singer in as many albums. The interesting evolution of the band is that on their debut, Take One, the music (then and now mostly written by guitarist Scott "Rif" Miller) owned a bit of a Cheap Trick feel at times, meaning it was perfect for then-singer Phil Naro. If you remember Naro (Talas, Druckfarben, etc.) he's a unique, multi-faceted vocalist whose vocal delivery is smooth as Silk (yes, the chocolate flavored soy juice) and regular silk. When Naro vacated the post, a true Hair Metal singer stepped in, Alex Barbieri, on Damage Control, and the music became more sexually charged, more fun all around, and much closer to Firehouse, playing to Barbieri's strengths. Throw all of that out the window now, because on the new album, the vocal "man amongst boys" takes the reins, David Reece, of Accept and Bangalore Choir fame. Tango Down is now a mature, gritty, bluesy machine, but still somehow upholds those trademark hyper-melodic choruses, making for a unique blend of styles on Identity Crisis … and thus the name?
The band wastes no time in flaunting their new attitude on the first track "Cryin' to Me," with Rif maniacally riffing away with sharp, bubbling leads before Reece starts singing. It's not typical to hear aggression in Tango Down, but Reece is the perfect man for the job. He's cynical, biting, and yet melodic as hell. This is a smart way to re-unveil Tango Down.
"Dream Child" is old school Metal, with guitars coming at you like Keel or Ratt or maybe some Dokken. There's a bit of a sinister groove here, a crescendo to a bad place as the song catapults to the actual uplifting chorus. Throughout the album, you are going to keep thinking "Joe Lynn Turner and Whitesnake helped write this album" and that vibe is prevalent throughout. Reece's scream before the guitar solo is so throaty and testosterone-ridden you'll be taking note that Tango Down is a new animal.
One of the tracks the band will probably highlight sooner or later is "Blame." This is a much more AOR-leaning track, still with a bite and is a representative mid-tempo rocker. The nearly a capella passage after Rif's heated solo is a bit goosebump-inducing — it's that good.
Still, no matter what Tango Down tries, the songs that stick out are the semi-burners like "Enlighten Me," those riff-driven compositions that do harken back to a time when good music was played on the radio. With Reece's blues-soaked vocal style, he just adds a weight to the music you've didn't quite hear before from Tango Down.
Speaking of not hearing something before, "Magic Pudding" ends the fracas with a majestic mauling. This is Tango Down? This is HEAVY, and grinding, and an outright sexual onslaught. Even in their own words, which they call "swamp rock blues Whitesnake style" and their own "Crying in the Rain," that barely goes far enough to define it. It's a version of a Reece song recorded from before, so may you have heard it before, but it also might be the best track on the release; and how often do albums END with the best track?
On top of those over-the-top vocal melodies during the choruses, Reece's vocal mastery, and expert songwriting, the album was once again mixed by Ty Sims and produced by Erik Johnson and Ty Sims, who have their hand in production efforts in most of the aurally dynamic releases from Kivel Records over the past few years. This is one of those albums you'll have to stretch to find something you don't like. Hell, even the cover art is spot on. If Tango Down was going through an "identity crisis" before the release of this new album, it's clear they know who they are today.
Genre: Hard Rock
Track Listing:
1. Cryin' to Me
2. Alone
3. Dream Child
4. Blame
5. Corners of My Mind
6. Enlighten Me
7. Back to Life
8. Hearts Catch Fire
9. Calling Out
10. Magic Pudding
Band:
David Reece
Scott Rif Miller- Guitars
Chris Konys- Bass
Keith Michaels- Drums
Label: Kivel Records
Web: www.kivelrecords.com
Hardrock Haven rating: 8.3/10