Walter Trout | Blues for the Modern Daze
by Alissa Ordabai
– Senior Columnist —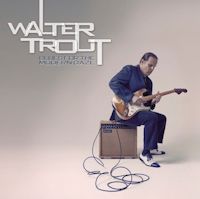 Walter Trout's career of the blues torch-bearer over the past 40 years included 32 albums as a solo artist, a band leader, as well as a member of Canned Heat, John Mayall's Bluesbreakers, and supporting musician to such luminaries as John Lee Hooker, Big Mama Thornton and Joe Tex.
Backed by his touring band, on his latest record Trout goes back to his musical roots, steeping its most poignant tracks in country blues sensibility, and in the process comes up with some of the most introspective material he's released to date.
Big, rough-edged, but at the same time windy, airborne guitar tone, classic space-rocking grooves, and swaggering assertiveness of Trout's chops is what strikes you first on opener "Saw My Mama Cryin'." It's an autobiographical track, which on par with the ruthless confessional "Recovery" conveys realities that are anything but clichéd, despite the age-old formulas serving as a launching pad for Trout's emotional and instrumental extrapolations.
And speaking of extrapolations, it's the improvisation where Trout is at his best on this release with his measured, assertive approach to soloing, yet never sounding formulaic, connecting the inner with the outer in a direct, immediate way. His phrasing is the reflection of his temperament – often conversation-like, sometimes impatient, sometimes cheeky, sometimes melancholy, but always recognizable as uniquely his. And just as true feelings are never smoothly sleek, never is his playing, which channels actual feeling instead of showcasing virtuosity.
Which doesn't mean Trout isn't showing off his chops when he feels like it, as on sassy stomper "The Sky is Fallin' Down" with its gritty slide work juxtaposed against the swaggering harp, or on the rousing blues locomotion titled "You Can't Go Home Again".
After decades given to blues, to this day Trout remains committed to the impulse at its heart – still exploring and finding ways to direct the prism of the genre to seemingly trivial modern occurrences. On standout "Lonely" he suddenly makes us realize that we are all just as alone as people were at the dawn of blues as a musical form some 100 years ago, regardless of what inventors of modern technology may be trying to make us believe.
Apart from launching into extended electric guitar excursions, Trout also showcases his understanding of the acoustic blues on this release. "I Never Knew You Well" is a hauntingly lit country blues with a modern twist where the acoustic guitar runs an eerie commentary to the exuberant electric guitar leads. "All I Want is You" is another standout which moves slow-tempo between the shadowy suspense of acoustic guitar parts contrasted with melancholy harp and eerie floatation of the open-ended, unconventionally phrased electric guitar solos.
The closing title track goes down the same route, but sounds grittier when Trout channels echoes of Blind Willie Johnson in the intro. There is a reason why he decides to mine this approach: "My main inspiration for this album was the country blues-man Blind Willie Johnson," Trout explains on the web site of his management company Intrepid Artists. "His music is so beautiful, primal, direct and deeply spiritual that I wanted to feel it at my back when we were cutting these songs."
The times are different now, but while 80 years separate Johnson and Trout, there is still continuity to the tradition which this album shows so transparently, while making sure the genre remains relevant to modern realities.
Genre: Blues
Track Listing:
1. Saw My Mama Cryin'
2. Lonely
3. The Sky is Fallin' Down
4. Blues for My Baby
5. You Can't Go Home Again
6. Recovery
7. Turn off Your TV
8. Lifestyle of the Rich and Famous
9. Never Knew You Well
10. Puppet Master
11. Money Rules the World
12. All I Want is You
13. Brother's Keeper
14. Blues for the Modern Daze
Label: Mascot Records
Web: www.waltertrout.com
Hardrock Haven rating: 7/10