by Justin Gaines
– News Editor —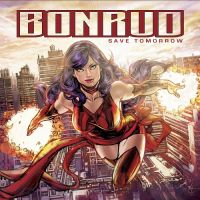 It's been a long time coming, but melodic rockers Bonrud are finally back with the follow-up to their 2004 self-titled debut album. The new album is titled Save Tomorrow and beneath the vivid super-heroine cover by Adriana Melo (of Star Wars: Empire and Witchblade fame) is an album that's as soaring and inspired as the title and artwork suggests.
This time around, guitarist/bassist/main songwriter Paul Bonrud and drummer Paul Higgins are joined by vocalist Rick Forsgren, a singer many listeners are going to want to know more about after hearing this album. Keyboards were supplied by Eric Ragno, Dave Gross and Richard Baker. Production and mixing were handled by Bonrud as well as Grammy-winner Keith Olsen, whose work on albums by Journey, Foreigner and Whitesnake (among many others), made him the perfect person to handle an album like this with the classic melodic rock sound so obviously in mind.
Stylistically, Bonrud hits that sweet spot between the classic '80s AOR of Journey, Foreigner and Loverboy and the more recent European melodic rock of Khymera, Work of Art and the Magnificent. Save Tomorrow is a remarkably consistent album that's just loaded with killer guitar hooks and melodies, and an unforgettable vocal performance. Forsgren has a strong, steady midrange voice that can jump a couple of octaves seemingly out of nowhere to give these songs an extra kick. He's a perfect match for Bonrud's deft guitar work. Bonrud seems just as home on grooving, heavier numbers like "Bullet in the Back" and "End of Days" as he does laying down bombastic hooks in "I'd Do Anything" and "Dominoes" and subtler AOR melodies in songs like "Torn Apart." Whatever the pace or level of heaviness, Save Tomorrow is twelve songs of completely catchy melodic rock that you will be singing along with by the first spin.
Much like Line of Fire did in 2010 with Momentum, Bonrud proves to the world that Europe doesn't have a monopoly on high quality modern melodic rock. Save Tomorrow is one of the best pure AOR albums 2012 has to offer, and one that fans of Sunstorm, Harem Scarem, Houston and White Widdow in particular and classic AOR and melodic rock in general will absolutely not want to miss.
Genre: Melodic Rock, AOR
Band:
Paul Bonrud (g) (b)
Rick Forsgren (v)
Paul Higgins (d)
Track Listing:
1. We Collide
2. Bullet in the Back
3. American Dream
4. Save Tomorrow
5. Liquid Sun
6. I'd Do Anything
7. Last Sunrise
8. Torn Apart
9. Blinded
10. Dominoes
11. You're the One
12. End of Days
Label: Escape Music
Website: www.bonrud.com
Hardrock Haven rating: 8.75/10