Candice | Night Reflections
by Alissa Ordabai
– Senior Columnist —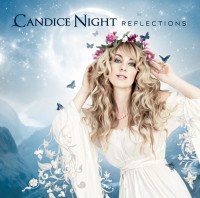 Candice Night's style – which is a total unity of her artistic devices and her ultimate purpose – connects the diversity of genres on her debut solo release into a self-aware, confident, undivided whole. Unlike the songs of Blackmore's Night, the album doesn't offer many medieval folk rock moments. Instead it leans more toward thoughtful, sincere pop, country, and country rock. And within this latitude of genres Night comes up with tasteful vocal chops oscillating between the sweetness of her usual delivery and genuine grit of rock, without compromising her main character of a thaumaturge enchantress.
On the one hand this is – of course – a carefully thought-through and well-crafted artistic image. But on the other hand it is so organic and suits Night so well that at times you forget you are listening to a pro, and not overhearing an intimate tribute sung by a lorelei siren to her lover, so intimate is Night's tone and so heartfelt is her message.
Still, Night's folk sensibility remains the biggest attraction even on a pop-rock-oriented release. The standout "For You" shows how well she can mine the minstrel vibe while managing to preserve the mystery at the heart of the medieval folk rock genre. And the main attraction of this album is in the continuing dialogue between the old and the new. When it transpires what a sharp understanding Night has modern popular styles, her ability to convey the medieval and baroque legacy to rock audiences becomes less of a mind-boggler, but a part of a bigger picture offered by this unique, multifaceted artist.
Genre: pop, rock, country, medieval folk rock
Track List:
1. Wind is Calling (Hush the Wind)
2. Gone Gone Gone
3. Black Roses
4. Now and Then (2011)
5. Dangerous Smile
6. For You
7. Call It Love
8. Robin Red Breast
9. Alone with Fate
10. In Time
Label: Minstrel Hall / Soulfood
Online: www.candicenight.com
Hardrock Haven rating: 7/10