Cathrine Jauer | When I Sing
by Joe Mis
– Columnist —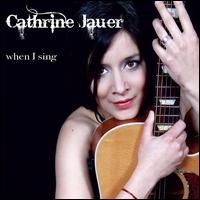 When I Sing is the triumphant solo release from German-born singer/songwriter Cathrine Jauer. Better known as the vocalist and bassist for the rock-pop band First Child, Jauer has come into her own as a solo artist and delivers a nicely done, upbeat album that runs the gamut from acoustic ballads to blues rock to even a little rockabilly madness.
Cathrine Jauer's music and performance style have always been driven by a love of classic rock (she lists Jimi Hendrix, Rainbow, and Led Zeppelin among her influences). Born in Frankfurt, Cathrine came from a musical household and started playing keyboards and singing at an early age, and added guitars to her skill set at the age of 12. Over the years she grew as a songwriter and performer, and spent some time as a studio singer and musician for commercials. After teaming up with songwriter Mary Susan Applegate and producer Clark Philips, Cathrine became the bass player and lead vocalist for the band First Child, releasing two well-received CDs (Souvenirs and Queen Of Hearts). Now she's stepping out as a solo artist.
Cathrine's voice is very well suited to the blues and classic rock style she prefers. While she does not have the remarkable range of some of today's female performers, she manages to convey a great deal of passion and emotion with every word. She can do gritty-bluesy and soft and sweet with equal aplomb, and is a fine musician as well whether it is on guitar, bass or keys. When I Sing has been nicely produced and engineered by Roger Wahlmann, and the album has a pleasantly warm tone to it. The songs are all well-written, and each is pretty much unique in terms of tempo and tone. Cathrine's guests enhance the tracks without dominating.
Acoustic guitars, a great bass groove, and powerful vocals allow the introspective blues rocker "When I Sing" to open the album on a high, and let Cathrine to celebrate the joy of singing. "So Easy" is a beautifully done acoustic ballad about perseverance and finding the strength to not give up. The tempo picks up on the gritty, social commentary track "Love Is Fading In Our Hearts," and the fire in Cathrine's voice becomes apparent. "How Do I Love Thee" is a remarkable piano, violin & vocal piece that uses the words of Elizabeth Barrett Browning's Sonnet 43 of the same name. "Lay Me Down" is a nice upbeat rocker featuring passionate vocals a very tidy guitar solo by Timo Ploog.
Undoubtedly Cathrine's most powerful vocal performance comes on the ballad "Bridges Burning." This bittersweet track deals with memory, loss and letting go – and it is passionate, fiery, and heartfelt without being heavy handed. "You Want Me To Dance" is a total turnaround – it is a bouncy, almost Broadway showtune track with a kicky rhythm line and an incurable sense of fun. Cathrine delivers another strong vocal performance pleading for unity on the eco-anthem rocker "All You Believers." "Dear Life" is a smoky and intense blues-rock "don't give up" song with a great guitar solo contributed by Milan Polak. The upbeat, almost rockabilly "Shout Of Triumph" is a biker's anthem that pays homage to the mighty Triumph motorcycle, one of Cathrine's other passions.
Overall, When I Sing is indeed a "Shout Of Triumph". Any fan of blues rock will enjoy listening to the wonderful performances of Cathrine Jauer. She is a passionate and dynamic performer, and her music seems to be a natural extension of herself. No phony words or made-up sentiments here – just simple, straightforward music that lets Cathrine sing from the heart. The only thing that disappoints is that the CD eventually ends…
Very highly recommended!
Genre: Rock / Pop
Band:
Cathrine Jauer (vocals, guitar, keyboards, bass)
Guests: Pete Sage (violin on #4), Timo Ploog (guitar on #5), Milan Polak (guitar on #9), Conny Schrade (sax on #10)
Track Listing:
1. When I Sing
2. So Easy
3. Love Is Fading In Our Hearts
4. How Do I Love Thee
5. Lay Me Down
6. Bridges Burning
7. You Want Me To Dance
8. All You Believers
9. Dear Life
10. Shout Of Triumph
Label: Wooky Records
Website: www.cathrinejauer.com
Hardrock Haven rating: 9/10