D.A.M. | Human Wreckage and Inside Out (reissues)
by Justin Gaines
– Senior Columnist —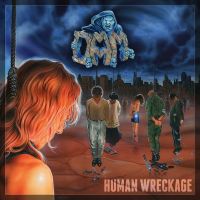 When it comes to the thrash metal scenes in the late '80s and early '90s, the Bay Area and German scenes tend to garner the most attention, and that's only appropriate given how influential both scenes were. What is too often overlooked – both then and now – is that the UK had its own thrash metal scene with some very impressive bands. Onslaught comes to mind as one of the leaders of that pack, as do Deathwish and Xentrix. One of the lesser known bands in that already overlooked scene was D.A.M. Short for Destruction and Mayhem, D.A.M. never really broke big, but they did manage to record – with the help of producer Harris Johns (who also produced Coroner, Voivod, Kreator) a pair of very solid albums on the Noise label, both of which have recently been reissued by Divebomb Records.
Originally released in 1989, Human Wreckage was D.A.M's debut album, and right from the start you can see the band was going for something a bit different from the typical thrash sound. To be sure, speedy riffs and machine-gun rhythms play a big role in the sound here, but the band never really gets over the top with it, and there is just enough melody and accessibility to reach out to the average metal fan. It's similar to Anthrax's approach to thrash, and it works really well. You can see how this would have appealed to the British fan still spinning Motorhead, Savage and Atomkraft LPs. "Killing Time," "Total Destruction" and the title track are standouts, but Human Wreckage is a very solid album from start to finish.
D.A.M's 1991 follow-up Inside Out saw the departure of lead guitarist "Elly," who was replaced by Dave Pugh. Pugh brought a higher level of technicality to the band's sound, and that's something that wasn't really there on Human Wreckage. The band sounds tighter and more polished here, and while the music is still accessible they did shift to a more straightforward thrash sound (there's a Forbidden vibe to some of these songs). The band progressed lyrically as well. The songs on Inside Out are smarter, more introspective and personal than the somewhat clichéd subjects from Human Wreckage. "House of Cards," "Winter's Tear" and "My Twisted Mind" are the highlights here, but again D.A.M. delivers another very solid overall album in Inside Out.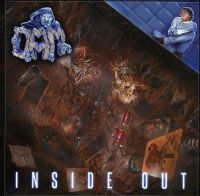 Divebomb's 2012 reissues of Human Wreckage and Inside Out bring these two titles back to life after decades out of print. Both albums have been digitally remastered by Jamie King (who has a very impressive track record when it comes to breathing new life into these old thrash recordings) and feature liner notes loaded with interviews and rare photos. The Human Wreckage reissue also features multimedia content including the promotional video for "Human Wreckage" and a four song live performance from 1989. They're both really well put-together reissues all-around.
While neither album ever reaches "essential" status and D.A.M. is never going to be considered an A-list thrash band, these reissues are still well worth checking out if you're a fan of the classic '80s and early '90s thrash metal era. Fans of the UK thrash sound in particular will not want to miss these albums, especially now that they've been reissued. If you're one of the few who picked them up the first time around, the remastering alone makes the new versions of Human Wreckage and Inside Out a worthwhile upgrade.
Genre: Thrash Metal
Band:
Elly (g, Human Wreckage)
Dave Pugh (g, Inside Out)
John Bury (g)
Jason McLaughlin (v)
Phil Bury (d)
Andy Elliott (b)
Track Listing (Human Wreckage)
1. M.A.D.
2. Death Warmed Up
3. Killing Time
4. Left to Rot
5. Prophets of Doom
6. Terror Squad
7. Total Destruction
8. Infernal Torment
9. Vendetta
10. Human Wreckage
11. Aliens
12. F.O.D
Track Listing (Inside Out):
1. Man of Violence
2. House of Cards
3. Appointment With Fear
4. Thought for the Day
5. Winter's Tear
6. The Innocent One
7. My Twisted Mind
8. Circles
9. No Escape
10. Beneath Closed Eyes
11. Inside Outro
Label: Divebomb
Website: www.facebook.com/DAMmetal
Hardrock Haven rating: 8.5/10