Dio | The Very Beast of Vol. 2
by John Kindred
– Publisher —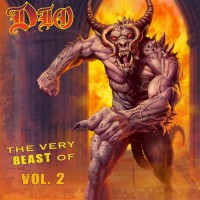 There is no doubt that the legacy of Ronnie James Dio will burn forever in the heart of metal fans all over the world. With that said, Niji Entertainment has released The Very Beast of Vol. 2, which is the follow-up to The Very Beast Of Dio and covers the years from 1996 to 2010. The albums represented include: Angry Machines (1996), Inferno: Last in Live (1998), Magica (2000), Killing the Dragon (2002), Masters of the Moon (2004), Tournado Box Set (2010) and the Feinstein album Bitten by the Beast (2010).
Dio, much like Ozzy, has played with the best guitarists of the genre during this featured time period: Tracy G., Craig Goldy and Doug Aldrich. Longtime writing partner, bassist Jimmy Bain, is represented on several songs, as well as his replacements Jeff Pilson and Larry Dennison. The drums where handled by Vinny Appice up until 1999, and then Simon Wright took the throne until '10. Finally, longtime keyboardist Scott Warren, whose tenure ran from 1993-2010, makes his presence known on all the songs on The Very Beast of Vol. 2.
The Very Beast of Vol. 2 features 17 songs, including the rare "Electra" from the Tournado box set. The Feinstein song "Metal Will Never Die" from Bitten by the Beast and "Prisoner of Paradise," which was appeared on the Japanese release Masters of the Moon, also are included. Artist Marc Sasso painted the front cover, and the linear notes were penned by Eddie Trunk.
"Best of" releases generally will either appeal to die-hard fans or be frowned upon, as everyone has a distinct list of the favorite Dio songs. For the most part, The Very Beast of Vol. 2 delivers a strong set of songs produced, mixed, and re-mastered by Dio's longtime engineer, Wyn Davis. Everyone will have a favorite era, favorite guitarist or album. Stylistically, Dio always produced albums that had continuity in artistic style. While each guitarist had distinctive solo abilities, the rhythmic crunch of each was uniquely similar, guided by the hand of Ronnie James Dio, himself.
Available worldwide, unlike its predecessor, The Very Beast of Vol. 2 is a nice addition to any of Dio's disciples CD collection. The man is gone from this Earth, but his voice and legacy live on …
Genre: Heavy Metal
Musicians:
Ronnie James Dio – Vocals, Keyboards
Tracy G – Guitars
Craig Goldy – Guitars
Doug Aldrich – Guitars
Jeff Pilson – Bass
Larry Dennison – Bass
Jimmy Bain – Bass
Vinny Appice – Drums
Simon Wright – Drums
Scott Warren – Keyboards
Track Listing:
01. Killing the Dragon
02. Push
03. The Eyes
04. Along Comes A Spider
05. Better In The Dark
06. Fever Dreams
07. Black
08. Feed My Head
09. Shivers
10. Hunter Of The Heart (live)
11. One More For The Road
12. Lord Of The Last Day
13. Electra (bonus track)
14. As Long As It's Not About Love
15. This Is Your Life
16. Metal Will Never Die (bonus track)
17. Prisoner Of Paradise (bonus track)
Label: Niji Entertainment
Hardrock Haven rating: n/a