Eugenic Death | Crimes Against Humanity
by Justin Gaines
– Senior Columnist —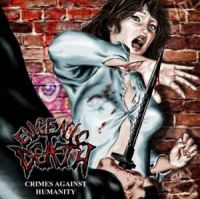 Crimes Against Humanity is the debut full-length release from Greensboro, NC thrash metal band Eugenic Death, who are one of a growing legion of new bands that are taking up the banner of old school, Bay Area style thrash in the new era. Slayer, Testament, Exodus and Forbidden seem the most likely influences on Eugenic Death's overall style, which is not a bad thing at all if you prefer your thrash somewhat serious and gimmick-free.
Crimes Against Humanity is a lean album, with just seven songs (and one of those an instrumental track) and clocking in at less than 40 minutes, but the band packs more than an album's worth of thrashing metal energy into the album. It's a very intense album, thanks in large part to the absolutely blistering riffs from guitarist Jonathan McCanless. His guitar work on Crimes Against Humanity can go toe-to-toe with the best work you'd find on any major thrash release this year. The rhythms are very tight as well. Keith Davis provides a deep, gruff, almost-barked vocal performance that's solid enough, but does take a back seat to the guitar work. It probably doesn't help that the lyrics are a predictable mix of thrash metal clichés of the violent socio-political variety. The only other downside is that you never really get a sense of the band's own identity. You can tell who their influences are, but a unique Eugenic Death sound never emerges.
That Eugenic Death has plenty of potential is undeniable. With some refinement it's easy to see them becoming one of the better bands in the modern thrash scene. They're not quite there with this release, but if you're an old school thrash metal fan, you could do a lot worse than to give Crimes Against Humanity a try. It's a very solid first step in the right direction.
Genre: Thrash Metal
Band:
Jonathan McCanless (g)
Keith Davis (v)
Shane Lucas (b)
Ian Pasquini (d)
Track Listing:
1. Crimes Against Humanity
2. Indictive Deity
3. Medication Time
4. The Devil Waits
5. Plagued by Ignorance
6. Epitaph
7. The Practice
Label: Heaven and Hell Records
Website: www.myspace.com/eugenicdeath
Hardrock Haven rating: 7.5/10