Gretchen Menn | Hale Souls
by Alissa Ordabai
– Senior Columnist —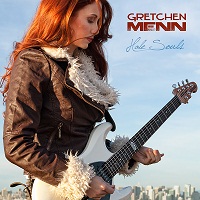 It is rare for an artist's influences to be so obviously transparent but at the same time to be absorbed so organically into personal style to create an instantly recognizable identity. This is the case of Gretchen Menn – an up-and-coming new name in the world of instrumental guitar who seamlessly coheres genres from baroque to rock with her own unique sound and compositional signature.
Menn's debut full-length album Hale Souls released in 2011 is one of the most promising instrumental guitar records of the beginning of this decade. It makes you forget the curiosity factor of Menn being a female rock guitarist, and places the focus where it should be – on the music. Her chops are so dapper and her knack for composition so gripping, you know right away that here is an upper league contender, eliminating all need for concessions.
"Scrap Metal" is a perfect heavy weaponry opener – raw-edged metal riffs and shifting time signatures serving as a launching pad for Menn's solo extrapolations strutting the fine line between poeticism and grit. There are echoes of Steve Morse's jazz fusion and Jimmy Page's Presence-era phrasing (both Mores and Page are Menn's personal guitar heroes), but it's the way in which she assimilates them into her own vision that distinguishes her from the imitators. While many imitate to flatter their heroes and to acquire cred for themselves, Menn's approach to her influences is about continuity of culture and succession.
The way she develops her melodies without reserve or bombast – while never overplaying – seems to be not acquired, but ingrained, a part of her laconic style, and of her disinterest in self-aggrandizement. Unity of chops and purpose is Menn's main trait, on par with her wide stylistic latitude.
And speaking of latitude, acoustic tracks such as "Déjà vu" and "Fading" highlight a different side of her character away from the expansive swagger of her rock cuts. She can approach tender themes without sentimentality, with her vocabulary of techniques (from volume knob tricks to tapping) used to arrive at an artfully illuminated, carefully constructed sound, with plenty of aural space, and truth of feeling coinciding with the crisp clarity of her performance. The end result is a hypnotizing, but at the same time lucidly clear atmosphere of an artist who keeps in balance self-search and respect for her listener.
Then, of course, there is Menn's love for baroque music. Having studied classical guitar since young age, Menn is an intuitive when it comes to art music sensibility. So imitations of an era long gone don't sound mechanistic or artificial, but curiously fresh and free of mannerism.
There are enough compositional ideas, true proofs of immense dedication, and real gift for self-discovery on Menn's first full-length release to ignite real interest not simply among the guitar aficionados, but a wider audience. The directions she explores are so diverse and so intriguing (just the way it is with all debuts from big artists) that you are only left to wonder where the first steps of the journey will ultimately lead to.
Genre: rock, art music
Personnel:
Gretchen Menn – guitar
Stu Hamm – bass
John Mader – drums
Emily Palen – violin
Guest artists:
Angeline Saris – bass on "Scrap Metal"
Jude Gold – second acoustic guitar on "Fast Crowd"
Kirsten Menn – vocals on "Fading"
Track List:
1. Scrap Metal
2. Oleo Strut
3. Déjà vu
4. Valentino's Victory Lap
5. Fast Crowd
6. Is It Not Strange
7. Captured Barricade
8. Walking Shadow
9. Struck Sleepless
10. Fading
Label: Mach Zero Records
Online: www.gretchenmenn.com
Hardrock Haven rating: 8/10