Jason Becker | Boy Meets Guitar
by Alissa Ordabai
– Senior Columnist —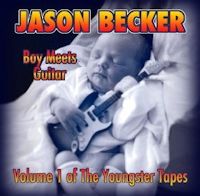 2012 has been an eventful year for Jason Becker. A documentary film about him is premiering all over the world, Carvin's custom shop has just released a tribute Jason Becker guitar, and now he has a new album out which is a collection of his early demos previously unheard by the general public. Since the onset of ALS – the illness which deprived Becker of movement just when his career was about to take off in a big way – he has nonetheless been putting out brilliant, inspiring music, using eye movement and music software to write it. The new album, however, is telling a different story – that of Becker's early years as a novice musician, all tracks on it recorded when he was aged between 15 and 17.
"Novice", of course, is a strange word to use in this case. On the one hand Becker is astonishingly young, but it beggars belief how accomplished his chops are and how highly developed is his musical sensibility. Two cuts are pieces written by Villa Lobos and Paganini, but the rest of the material are all originals. And it is bewildering to hear how fluently a teenager can incorporate Baroque and classical compositional devices into his own music – the mathematical relationships, rules of counterpoint, and the dialogue between the melody and bass notes, while also having a natural – seemingly innate – feel for hard rock and blues.
At times Becker can't resist from showing off his formidable technique just for the sheer fun of it, but even when he chooses to play super-fast, the chops almost always serve to convey emotion. The main purpose of having a virtuoso technique has been understood by Becker from the very start – not as a means to assert himself, but as a liberating skill which allows a musician to express fully who he is.
And the best thing about this album is exactly that – who Jason Becker is. His racing chops, his feel for the nuances and the dynamics, his intuitive technical versatility, and his emotional intelligence would have been enough for any aspiring musician to start making a name for himself. But all these qualities are still peripheral to where it's really at with him: his prodigious talent for improvisation, his rich – seemingly limitless – imagination, and that special gift of a composer who can take you outside of everyday realities and beyond distinctions between genres.
But despite the spell-binding visions Becker's music gives you, each track on this release conveys something human, and this is how he connects with you from the word go. The high tech chops never obscure his inner realities, but help Becker relay them with more poignancy. Melody, taste, meaning, true feeling, and individuality are all above and beyond the technique for him. At privileged moments guitar doesn't feel like an intermediary between the musician and what he plays, but disappears, melts into the music, to leave Becker one-on-one with the ultimate source.
"I didn't want to just be a great player for my age," Jason Becker was saying to Matt Blackett in his recent interview in Guitar Player magazine. "I wanted to be become one of the best players, musicians, and composers ever." Once you hear this release, you know that you are dealing with exactly that – not just another child prodigy (there were plenty of those at the time), but someone who defied all limitations – be it technical or non-physical – to arrive at complete inner freedom to join that small league of those who, to quote Picasso, are "washing the dust of daily life off our souls."
Genre: baroque, classical, art music, rock, blues, funk, experimental
Track Listing:
1. Betcha Can't Play This! (17 yrs. old)
2. Prelude no. 1 (Villa Lobos) (15 yrs. old)
3. Astral Voyage (16 yrs. old)
4. Vision in the Clouds (15 yrs. old)
5. Violent Skies (16 yrs. old)
6. Moe, Larry & Carlton, Vol. 1 (16 yrs. old)
7. Moe, Larry & Carlton, Vol 2 (16 yrs. old)
8. Remember (15 yrs. old)
9. Nate, You Funky Mofo! (feat. N8 Fox) (16 yrs. old)
10. Paganini's 24th Caprice (16 yrs. old)
Label: Jason Becker Music
Online: www.jasonbeckerguitar.com
Hardrock Haven rating: 10/10