by Ron Higgins
– Columnist —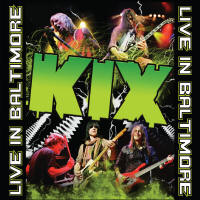 Disclaimer: This record is being released as a CD/DVD combo (on Oct. 21 in Europe and Oct. 25 in the U.S.) but this review is just for the CD. It will also be released digitally with several bonus tracks.
KIX have released their first live album in nearly 20 years and they returned to their old stomping grounds to do it. KIX hail from Hagerstown, Maryland, which is about an hour and a half northwest of Baltimore. Baltimore has always been supportive of their home-town heroes so it makes perfect sense for this release to be recorded there at a venue called Rams Head Live!
KIX have been around for quite a while, forming in 1977 and releasing their debut, self-titled album in 1981. In the world of music, that's a lifetime. And yet, they're still going strong and are still a formidable live act. In fact, their live shows are probably as much responsible for their longevity as their songs. In truth, their songs are somewhat simplistic, with a straight-forward rock and roll groove. But as we have learned with AC/DC, simple can be exquisite when done right. And KIX know how to do it right. Their impressive live shows are why they continue to be invited to play at important rock festivals like Rocklahoma, Rock the Bayou, M3 and the Monsters of Rock Cruise. So it makes sense for them to release a live album showcasing their high-energy shows.
The album starts on a high note, with the fast-and-furious "No Ring Around Rosie", one of the best songs on their platinum selling Blow My Fuse album from 1988. Not surprisingly, Blow My Fuse is the most represented album on this live release, contributing five of the twelve songs. The other four songs include "Cold Blood", "She Dropped Me the Bomb", the title track and their highest charting track, the anti-suicide balled "Don't Close Your Eyes", which made it all the way to #11 on the Billboard Hot 100 in 1989.
Overall, it's a pretty good career retrospective, including eight songs from two of their best albums, Midnite Dynamite and Blow My Fuse (which reached #45 on Billboard). It also goes all the way back to their debut album, including three songs ("Atomic Bombs", "Kix Are For Kids" and "Yeah, Yeah, Yeah") as well as the ever-popular "Girl Money" from their 5th album, 1991's Hot Wire.
Back in 1993, KIX released another live album, simply called KIX Live. Although there is some overlap in songs with five of the songs appearing on the earlier album, seven of the songs are new so it's a worthy purchase, even if you own the first live release. In fact, five of the songs on this release are neither on the original live album nor their greatest hits album, KIX Essentials.
Although a worthy addition to any rocker's collection, it's not a perfect release; in fact, two of their six studio albums are completely ignored. Neither their 2nd album, 1983's Cool Kids, nor their final album, 1995's Show Business, are represented in this collection. Additionally, there are several key songs that are missing from this release such as "Same Jane", "Sex" and "The Itch". Fortunately, the latter two do show up as bonus tracks on the digital edition but their exclusion from the CD is baffling. And though Steve's voice sounds incredible when singing, his lengthy diatribes come off sounding like Paul Lynde meets Charles Nelson Reilly. None are worse than the sophomoric attempt at humor during the final track, which drags on for a mind-numbingly 17 minutes! And each time he repeatedly asks the crowd, "Are you happy?" you will likely find yourself getting increasingly unhappy. Steve is a great showman, and maybe some of this translates better to the visual performance on the DVD, but for music lovers, this disc would be better served sticking to the killer music and less to the banal chit-chat.
This release is obviously targeted to diehard KIX fans. So why should fans buy it if they already have a lot of their earlier releases? Simply put, KIX are at their best when playing live so here's a chance to hear them do what they do best. And as anyone who attends live concerts knows, no two shows are the same. And just because this is primarily for long-time fans, it wouldn't be a bad purchase for someone who is new to the band too due to its strong song list and its career-spanning inclusion of songs from most of their albums.
Genre: Hard Rock
Bottom line: Should people buy this album? Yeah, Yeah, Yeah!
Band:
Steve Whiteman – Vocals
Ronnie "10/10" Younkins – Guitar
Brian "Damage" Forsythe – Guitar
Jimmy "Chocolate" Chalfant – Drums
Mark Schenker – Bass
Track Listing:
1. No Ring Around Rosie
2. Atomic Bombs
3. Lie Like A Rug
4. Don't Close Your Eyes
5. Girl Money
6. Cold Blood
7. Cold Shower
8. She Dropped Me The Bomb
9. Blow My Fuse
10. Kix Are For Kids
11. Midnite Dynamite
12. Yeah, Yeah, Yeah
Label: Frontiers Records
Website(s): http://www.kix-band.com/
Hardrock Haven Rating: 8/10