LIVE! | Anthrax, Testament & Death Angel
by Alex Barbieri & Jonna Ambur
– Senior Columnist / Photojournalist —
OCTOBER 4, 2012 AT WEBSTER THEATER, HARTFORD, CT
On a Mission to Bring Back Old School Metal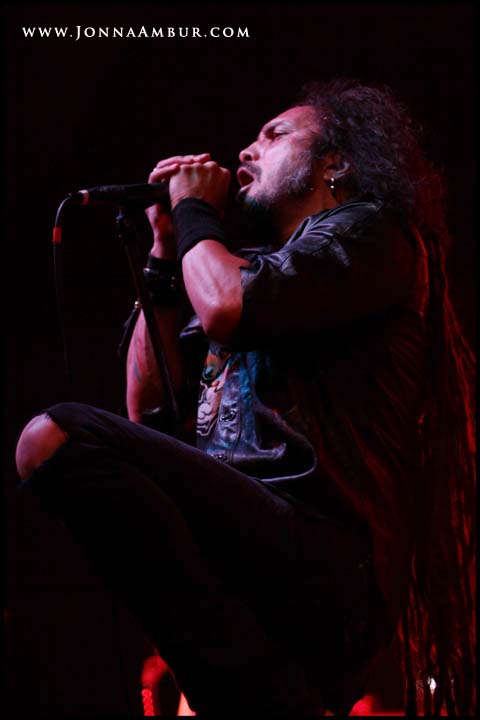 Some of Connecticut's best and heaviest bands kicked off this much-anticipated thrash fest. Continuum from Wolcott—featuring the ferocious vocals of Brenda St. Amant—were the cream of the crop, along with Oath of Insanity from Hamden. This young band, highlighted by the amazing guitar work of Joey Concepcion, warmed up the crowd with their blend of youthful enthusiasm and old-school style thrash. Vengeance, Graven Image and Eyes of the Dead rounded out the awesome local scene in The Webster's Underground.
Death Angel
All the way from California, Death Angel was the first band up and played to an already-packed house. Touring in support of Relentless Retribution, Death Angel's amazing guitar duo of Rob Cavestany and Ted Aguilar generated unbelievable chemistry and complementary riffs. Mark Osegueda's vocals were on point, and newest members Damien Sisson on bass and Will Carroll on drums, melded right into the mix and didn't miss a beat.
Testament
Testament has gone through many member changes over the years, so it's hard to keep track of who's recording and who's touring; however, that night you'd think they'd all been playing together straight through for 20 years.
The current lineup features Chuck Billyon vocals, Eric Peterson and Alex Skolnick on guitars, Greg Christian on bass, and drummer, Gene Hoglan. These guys projected incredible energy and camaraderie with each other and the fans, despite the fact that the club was sweltering, smoky, and humid and people were dripping sweat from the pit to the bar.
Testament delivered to enormous response. As soon as they played "Into the Pit," the floor was a sea of passing bodies.They played songs from the early years like "Over the Wall" and "Practice What You Preach," and unleashed new tracks like "True American Hate" and "Native Blood" from their July 2012 release, Dark Roots of Earth.
Anthrax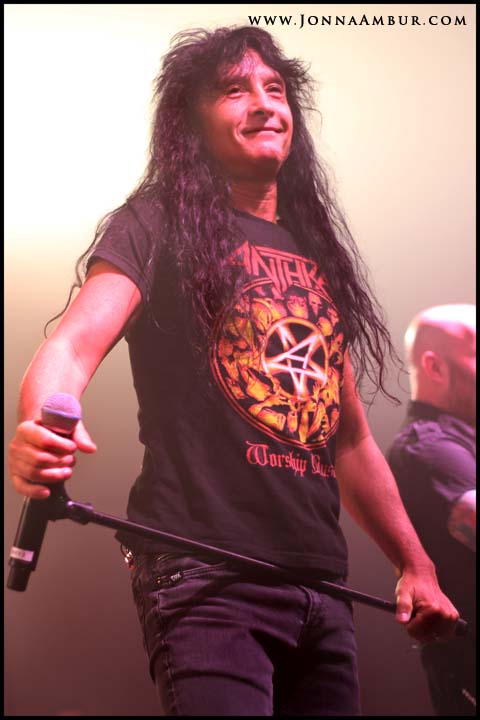 Now 120 degrees in the club with NO air circulation. The building filled up with effect fog to the point that camera lenses needed windshield wipers! You'd think people would give up and go home—NO chance! Anthrax hit the stage to a full house, and we were all sent back in time. From the first song, the bodies were being passed over the crowd and through the pit.
Worship Music, their critically lauded 10th studio album released last year, features the return of Joey Belladonna, and was their first recording of original music since 2003.
After opening with "Fight 'Em 'Til Ya Can't," they launched into "Caught in a Mosh" and "Cry for the Indians" followed by another new one, "The Devil You Know." "Efilnikufesin" started the encore, followed by "Got the Time" from Persistence of Time—at that time the first crazed fan rushed the stage, only to be tackled and escorted away by security.The encore wrapped up with "I Am the Law" and another fan rushed, then tried to elude security only to be nailed by TWO of them and removed promptly from the building. Everyone was feeling the heat in the building, and kudos to these guys for powering through.The effects/fog was so dense at times, sometimes you couldn't even see the band!
Every member of Anthrax put on an amazing show, which included Belladonna on vocals, Scott Ian and Rob Caggiano on guitars, Frank Bello on bass, and drummer Jason Bittner, who did a stellar job filling in for the legendary and much-loved Charlie Benante. They were all phenomenal, and are true metal to the core. Anthrax will always remain true to themselves, their fans and their music. They prove it time, and again.
Overall the night was astounding! It brought so many of us back to the days of skipping class, buying tapes at a record store, walking around with boom boxes and spare D batteries, and at the same time introduced live metal to the next generation of young fans in attendance. To share the words of Joey Belladonna, "Always remember to worship music. Long live rock and roll!"
Anthrax, Testament & Death Angel Photo Gallery
no images were found
PHOTO GALLERY—PHOTOS BY JONNA AMBUR