by Deb Rao
– Senior Columnist —
September 1, 2012 at Fremont Street Experience in Las Vegas, NV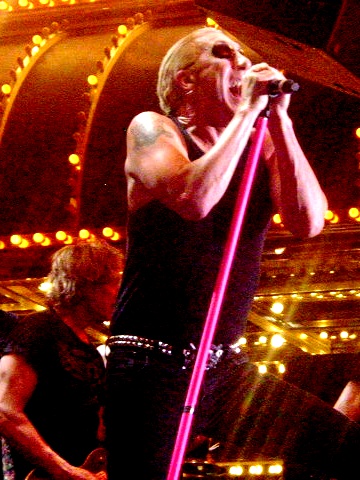 As Summer refuses to come to a close in Vegas, the very successful Rock Of Vegas Summer '80s concert series at Fremont Street Experience wrapped up with a special performance by Dee Snider. For those who attended the concert, the fans were in for a real treat, as Dee turned the venue into a Cabaret.
The set list was a pleasant surprise as Dee performed Twister Sister hits plus also infused the set with his favorite Cabaret hits. Snider opened the the concert with "The Kids Are Back." One of the highlights of the night was when Dee performed the Liza Minnelli hit, "Cabaret." He definitely showcased all facets of his musical tastes and also performed the Frank Sinatra hit,"I Get A Kick Out Of You."
Another highlight of the set included a special horn section giving the cabaret songs a special flavor. His all-star line-up also included bassist Rudy Sarzo. It was great seeing Dee perform the Twister Sister hits including "We Not Gonna Take It," "The Price," and "Leader Of The Pack." Dee's son Jesse performed onstage with him on the song "The Joint Is Jumpin." Dee ended the set with "I Wanna Rock" and the Led Zeppelin anthem "Rock And Roll." It was great to see the artist so versatile. As the last hurrah of summer at Fremont came to a close. Be sure to check out the return of Bret Michaels at Fremont on October 13th.
Set List:
The Kids Are Back
Bitch
You Can't Stop Rock And Roll
Cabaret
We're Not Gonna Take It
Burn In Hell
The Ballad Of Sweeney Todd
The Price
I Get A Kick Out Of You
Leader Of The Pack
The Joint Is Jumpin
Highway To Hell
I Wanna Rock
Razzle Dazzle
Rock And Roll