by Gary Dean Ash
– Columnist –
October 06, 2012 at Uptown Theater in Kansas City, Missouri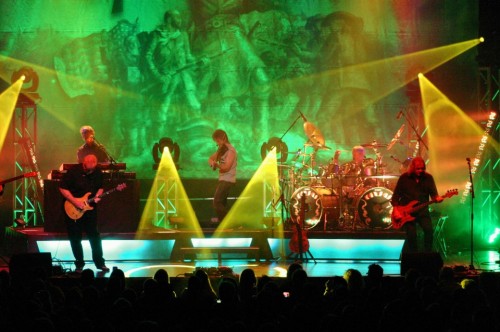 The lights lowered and a tapestry of Kansas first album with the image of the John Brown "Tragic Prelude" painting by John Steuart Curry was unveiled. The original mural is painted on a wall at the Kansas State Capitol in Topeka.
Kansas opened their set with "I Can Fly" off their 12th album Freaks of Nature. The main stay songs such as "Point of No Return," "Dust in the Wind," "The Wall" and "Carry On Wayward Son" remained true just as how all remember them, timeless classics.
Fans in attendance ages ranged from seven to seventy and all were there to enjoy Kansas in the best of all possible places, a live setting. This show took one back, reminiscing of special times those memories have lasted a lifetime. One can only hope that future generations of Kansas fans have memories with the music such as this.
A highlight of the show was Kansas performing two songs from their first album which was released in 1974, "Can I Tell You" and "Journey From Mariabronn." For a band to continue on for four decades speaks volumes of the quality of music and the devotion of their fan base. Quoting a song from the Audiovisions album; "I Got To Rock On," and that is exactly what Kansas continues to do.
Band:
Phil Ehart – drums, percussion
Steve Walsh – keyboards, synthesizers, percussion, vocals
Rich Williams – guitars
Billy Greer – bass, vocals
David Ragsdale – violin, guitars, vocals
Set List:
I Can Fly – Paradox
Point of No Return
Song For America
The Wall
Hold On
Dust In The Wind
Can I Tell You
Journey From Mariabronn
Miracles Out Of Nowhere
Portrait – He Knew
Hungry Rap
Fight Fire With Fire
Carry On Wayward Son
Kansas Photo Gallery
Photos Appear Courtesy of Kevin Stefanik