Simon Wright of Dio Disciples
by Deb Rao
– Senior Columnist —
In tribute to of one of the greatest singers in Metal, Ronnie James Dio, the Dio Disciples are taking the metal scene by storm on their current U.S. Tour. As The Very Beast Of Dio Vol 2 rises high in the Charts, world renowned drummer Simon Wright checks in with Hardrock Haven to discuss The Dio Disciples, The Very Beast Of Dio Volume 2 and remembers one of the greatest singers in metal Ronnie James Dio.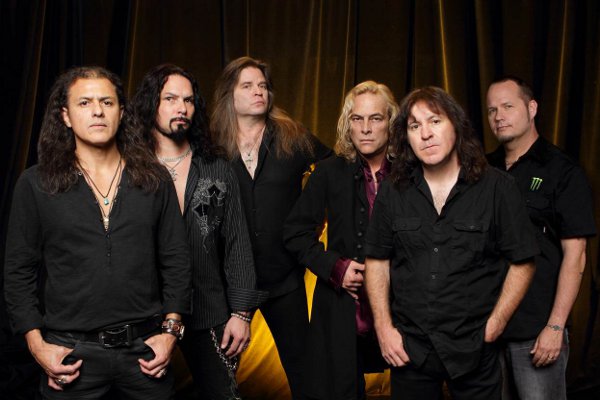 HRH: Simon, The Dio Disciples are slated to hit Vegas on Friday. Tell us what the fans can expect to see for a set list on this tour.
Simon: They will be hearing all the classic songs from Ronnie from his Dio era, Rainbow, Heaven and Hell. Also we are putting some songs in there from the new release The Very Beast of Dio Volume 2. We will play some songs off of that. It is kind of a retrospect of Master Of The Moon, Magica, Killing The Dragon, and Angry Machines. There have been three shows and it seems to be working out really great. We're looking forward to Vegas.
HRH: It is going to be a blast. We can't wait to see the band perform here. Tell us about your new release. There are some classic songs on it too. I heard it. It sounds amazing.
Simon: There are some bonus tracks. It is a retrospect from those albums from 1996 to 2000. Which were a little overlooked. I am not sure why? It might have been the musical climate. There are some great tracks on there. There are some popular songs. It really digs deep into the albums. It is definitely worth having a look at. Plus there are some great bonus tracks on there. One being "Electra." Which was the last track that we did with Ronnie as the Dio band. There is a bonus track from Master Of The Moon, called" The Prisoner Of Paradise." There is also a bonus track called, "Metal Will Never Die." It is a great compilation I think.
HRH: It is very strong and also very well produced. The band is also playing a special benefit for the Ronnie James Dio Cancer Fund at The Avalon on Halloween. Tell us about this show.
Simon: Yes, we got some very special guests that will come up and play with us, which we are really excited about. All the money goes to Ronnie's Cancer Fund. We are really looking forward to it. It is going to be a great Halloween Bash with really cool surprise guest.
HRH: How does it feel to be in the ultimate Tribute band to Ronnie James Dio? What is your goal with the band? I know the response has been huge so far. Ronnie was such a great human being and musician. Everyone loved him.
Simon: It is something that we all feel really strong about. We did think about this a lot. We weren't sure that it was the right thing to do. But we done it. And we are on the road now. It is kind of in a way a calling. Ronnie was a musician. We are musicians. What better way to keep remembering him? That is what we all feel about this. We really feel strongly about doing this band. It is from the heart with total respect. It is keep his music going.
HRH: As a musician, what did you learn from Ronnie James Dio being onstage with him night after night?
Simon: Oh so much! It's like the craft. Just some of the little things that he would do with the audience. The way he would change the set around. We already had a set that we rehearsed but Ronnie liked to do was talk with us about ideas and stuff. Even for like beginning so songs and endings for songs. It was a constant work in progress. It was just amazing. I really enjoyed that part of it. You learned from his ideas, which is great. He was just terrific to work for.
HRH: Do you have any favorite shows that you played with Ronnie?
Simon: There was so many. Right band to when I very first joined the band in 1990. We did two shows with Metallica and those were amazing. I always refer to a show that we did in Wacken. We headlined it. At the end of the show they presented Ronnie with a Lifetime Achievement Award. It was very emotional. It was a very proud moment. Not just for him but for us as well. It was a goose bump on your arm kind of thing.
HRH: I was fortunate. I had the opportunity to see him Dio in Worcester and Heaven And Hell in Ct. with Vinny Appice. It was just a magical show. You couldn't keep but be so encompassed by his talent. It was just magnificent.
Simon: He had a way of his communication with fans and crowds and people were just amazing. It seemed liked he was just performing for that person in the audience. It is a special thing when a performer can do that. And just be one of them. He was a remarkable person.
HRH: How long will the tour last?
Simon: We finish up November 20. We're hitting the East Coast again. It was a great reception there last time. It may go on a little longer. We're not sure. We're just trying to work things out.
HRH: You are such an established musician too. When you first started out as a musician that you landed the gig in AC/DC. What was it like in the early days going from playing clubs to arenas?
Simon: It was a bit like sticking your head in a washing machine really! It was quite a turn. It was fantastic. I couldn't believe I got a massive break like that. I was the happiest lad around. I was only 18.
HRH: You were like 13 when you started playing drums? Correct?
Simon: Yes, around that. I was watching TV and it had this music show. I thought I could do that and see how this goes.
HRH: Did the audiences differ from playing in the UK to the U.S.?
Simon: No, it was thousands of people. Things have changed with the musical climate. It was great. I think nowadays it is a little more crazy over in Europe. There is so much commercialism going on in America. They just don't seem to have as much as that in Europe.
HRH: I can hear some of your influences of Bonham and Led Zeppelin on the album.
Simon: Thanks. Those are the guys I kind of grew up with. Like Brian Downey from Thin Lizzy, Bonham. Cozy, Tommy Aldridge. You couldn't help but be influenced by people like that. It was so innovative. Some of the stuff they did was incredible. Still I listen to different drummers and different kinds of music. You hear things and go wow that is cool. You never stop learning. You listen to as much stuff as you can. That is what I say.
HRH: That is awesome. Well, we are looking forward to the Vegas show and wish you the best of Luck.
Simon: Vegas is going to be great!
Dio Disciples are:
Oni Logan – vocals
Bjorn Englen – bass
Craig Goldy – guitars
Scott Warren – keyboards
Simon Wright – drums
Tim "Ripper" Owens – vocals.
Tour Dates:
Sat 20 Oct Anaheim, CA HOB
Sun 21 Oct San Luis Obispo, CA Slo Brew
Tue 23 Oct Seattle, WA El Corazon
Wed 24 Oct Portland, OR Hawthorne
Fri 26 Oct Las Vegas, NV Hard Rock on Strip
Sat 27 Oct Tempe, AZ Club Red
Sun 28 Oct Ventura, CA Ventura Theatre
Wed 31 Oct Hollywood, CA The Avalon (RJD SUASCF Charity Show)
Thu 08 Nov Ft Wayne, IN Pierre's
Sat 10 Nov Detroit,MI Harpos
Tue 13 Nov Portland, ME Asylum
Thu 15 Nov Sayerville, NJ Starland
Sat 17 Nov Amityville, NY Revolution
Sun 18 Nov Poughkeepsie, NY The Chance
Tue 20 Nov Allentown, PA Crocodile Rock
FOR MORE INFORMATION, VISIT:
www.facebook.com/OfficialRonnieJamesDio