Soulspell | Hollow's Gathering
by Joe Mis
– Columnist —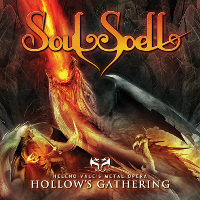 Hollow's Gathering is the latest release from the Brazilian metal opera project Soulspell created by drummer Heleno Vale. Once again, Soulspell uses an number of well know vocalists as characters in the story, and Hollow's Gathering is a veritable "Who's Who" of talented rock singers. Soulspell is more than just voices – the project as a whole is a refreshing expo that displays the fine instrumental and compositional talents of current the Brazilian rock/metal music scene.
Soulspell released their first album, A Legacy of Honor, in 2008 and followed up with The Labyrinth of Truths in 2010. Originally conceived as a showcase for Brazilian musicians and singers, Soulspell quickly bloomed into an international phenomenon. Now in 2012, Soulspell is releasing Hollow's Gathering with the support of famed vocalists Tim "Ripper" Owens (Judas Priest, Iced Earth), Blaze Bayley (ex. Iron Maiden), Michael Vescera (Obsession, Loudness, Yngwie Malmsteen), Amanda Sommerville (Trillium, Avantasia), and Markus Grosskopf (Helloween) among others. This spectacular lineup does not dominate the album and are truly "guests", as Soulspell showcases the talents of homegrown vocalists Jefferson Albert, Leandro Caçoilo, and Daisa Munhoz. These vocalists play different characters in a drama of human emotions and decisions.
Musical highlights include the amazing vocal teamwork (from soft and pure to gritty and growling) on the opening track "Hollow's Gathering." This song embodies the spirit of the remainder of the album and is one of those "everything but the kitchen sink" tracks in which the band pulls out every trick in the books – and truly demonstrates that this is indeed a "metal opera." Slick guitars and driving drums open the flowing "A Rescue Into the Storm," a very progressive sounding track with great vocal performances and some fascinating guitar breaks. Booming bass and an operatic opening make "To Crawl Or To Fly" a high energy and inspiring track thanks to the every-powerful voice of Amanda Sommerville. "Anymore" is a well done acoustic/electric power ballad, again with superb vocals and great guitar work. "Adrian's Call" cranks up the full-on metal assault once again, blending elements of old-school pure metal with modern flourishes and prog tempo changes.
"Change The Tide" carries the musical energy into real power metal territory – and is perhaps the only track where Heleno Vale allows his drums to become the centerpiece of the song. Each and every musician is at the top of their game in what is one of the strongest tracks on the release. "From Hell" is a quick and creepy intro to "The Keeper's Game," an Iron Maiden / Dream Theater-influenced track anchored by the bellowing voice of Blaze Bayley that flips back and forth from progressive to old-school tones. Tim Owens lends his highly recognizable metal voice on "The Dead Tree," a track that features some incredible keyboard works – including a very blues-inspired piano break. A soft piano riff opens "Whispers Inside You," and Amanda Sommerville provides some amazing duet vocals.
The engineering and performances are technically excellent. The vocals are crisp and the music is mixed with power metal precision, yet the album remains warm and human. The instruments are well balanced and never bury the vocalists. The songs are all well-structured and well written, telling a cohesive tale from start to finish. In terms of vocals, Albert, Caçoilo, and Munhoz stand toe-to-toe with the more seasoned "guest" singers allowing this lineup of disparate voices to deliver truly spectacular performances.
Overall, Hollow's Gathering is a fine power metal – symphonic metal release. It is surprising that a talented drummer has organized such a vocal-centric group – and it willing to keep his performance from dominating the music. Any band engineer or producer could learn quite a bit about mixing vocals by listening to the way all of the diverse voices of Soulspell are handled here. Heleno Vale has indeed succeeded in his quest to prove Brazil a musical contender.
Soulspell's Hollow's Gathering will be released on October 12, 2012. Don't miss it – it is EPIC!
Genre: Power Metal
Band:
Heleno Vale (drums)
Jefferson Albert (vocals)
Leandro Caçoilo (vocals)
Daisa Munhoz (vocals)
Marco Lambert (guitar)
Rodolfo Pagotto (guitar)
Wanner Maurício (bass)
Guests: Vocals – Tim Owens, Blaze Bayley, Michael Vescera, Amanda Sommerville, Markus Grosskopf
Track Listing:
1. Hollow's Gathering
2. A Rescue Into the Storm
3. To Crawl Or to Fly
4. Anymore
5. Adrian's Call
6. Change the Tide
7. From Hell
8. The Keeper's Game
9. The Dead Tree
10. Whispers Inside You
Label: Inner Wound
Website: http://www.soulspell.com/
Hardrock Haven rating: 9/10