The Top 12 Guitar Players You Must See Live
by Chris A.
– Senior Photojournalist —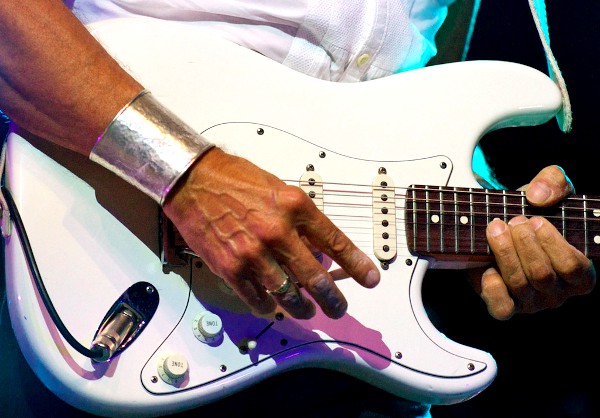 Influential, timeless and just plain smokin' players who have and are setting the standard.
When it comes to blues and rock n' roll, nothing is more important than the guitar. While Elvis gets the nod from many as the founding father of the genre, guitar players often share a knowing wink and point to guitarists like Chuck Berry or Buddy Holly as the "real" kings of rock n' roll. In 2012, a dynamic mix of guitarists continue to set the bar high. For the fan of the guitar and exponentially talented players, we offer 12 incredible guitarists who tour that you need to try to catch live at your earliest opportunity.
12. Eric Clapton: What can you say about Clapton except that he's influenced almost every rock and blues guitarist who strums a guitar. One can argue about his creativity (or lack of it) over the past 35 years but when it comes to blues playing in its purest forms listen to Clapton as he plays with "The Cream" or "The Yardbirds". Yeah… Clapton is God.
11. Zakk Wylde: This guy can play, he's one of the fastest most articulate guitarists on the planet and in the world of heavy metal he's influenced many of the "New Wave" guitarist types. While his past few recording efforts have been ho-hum, from a playing perspective ZW is still one of the best.
10. John 5: (Rob Zombie) John 5 is genuinely in love with the guitar and he's a real-deal, no kidding guitar dynamo who can make a Tele sound like a murderous chain saw. Step beyond his Zombie tunes and check out his solo material. You'll be impressed with his tone, touch and feel.
8. and 9. Zacky Vengeance and Synyster Gates: With similar skills the Avenged Sevenfold duo combine for some of the tastiest and musical playing to come out of "the new wave of American heavy metal." Slick, fast and clean, Zacky's got a slight edge on Syn from a playing perspective but it's the synergy of these guy guys playing together that gives A7X it's distinctive sound.
7. Joe Bonamassa: In the world of contemporary blues guitar "Smokin' Joe Bonamassa" is the no-contest king. This road warrior who seems to tour non-stop has worked his way from the local bar scene to jamming with Eric Clapton, B.B. King and all his heroes. He's a star in the world of electric guitar and seems to be the heir apparent to the aforementioned blues guitar gods.
6. Dave Mustaine: The poster child for the angry heavy metal guitarist but man can the guy play. While he ranks sixth in this feature, Dave is listed as the "most metal" guitarists of all time in Joel McIver's book "The 100 Greatest Metal Guitarists". Influential, fast, and pissed off at the world, that's our Dave and yeah while he drives us insane with his sometimes kooky behavior we love his guitar playing.
5. Slash: I really don't have to write much at all to convince anyone that Slash is a guitarists you should be spinning. If you're stuck in Guns n' Roses mode, you need to step outside that box and check out some of the "Snakepit" and his other solo material. Currently on tour with Miles Kennedy, Slash is an amazing guitarist who never mails it in.
4. Billy Gibbons: Best described as a guitarist who always takes the easy way out when playing his licks, the Reverend Billy G., and his subtle, classy, understated playing continues to just blow guitar players away. The sounds leap from Billy's fingers and the sound of Pearly Gates never gets old.
3. Johnny A.: Yeah, I know, a guy you never heard of. Well, it's time you heard of JA, one of the finest, most musical guitar players you'll ever have the pleasure of experiencing. Describing his style of music is difficult but think blues, jazz, rock ala Hendrix, Jeff Beck, The Beatles, toss in some Mike Bloomfield, some Clapton, and even a Zeppelin vibe and you might start to get the picture. Johnny A. mixes a musical diversity of rock, blues and jazz with the slick capabilities of the modern shredder. He speaks with his guitar, it's his voice and can he make the instrument sing and he can make it scream. What sets Mr. A. apart from his contemporaries on this list is his thick, mesmerizing guitar tone. Johnny A. is a true bonafide tone-monster with compositions that drip with emotion. He's also the only guy on this list who plays a signature guitar that is indeed his own, the Gibson Custom Shop Johnny A. Signature model, one of the Gibson Custom shops finest instruments.
2. Jeff Waters: I know what you're thinking; how can a guy you've never heard of number two on this list? It's simple… HE'S AN ABSOLUTELY AMAZING F'N GUITARIST. I hope I said that loud enough. As the brains and and brawn behind Canada's best selling thrash-metal band, Annihilator, Waters and Annihilator are nearly unknown in the US and A. Why? Crappy marketing and bad advice seem to be the culprits. From a guitar playing perspective it's hard to imagine anyone playing faster, cleaner or with more precision. Annihilator's a metal band and Waters is a student of the metal guitar. From picking to muting to string action, he's one of those guys who no doubt, locked himself in his room for 10 years and would practice sweep picking for 10 hours at a time. Listen to the guitar solo at the 1:00 mark of the song "The Trend". Holy crap, it's amazing and yes, he can do pull it off live but it's going to be tough to see him in the states as he's not played there in over 20 years. Go spin some Annihilator.
1. Jeff Beck: He's Jeff Beck, enough said. Beck's recognized as the most creative, innovative and just plain astounding guitar player on the planet. In fact, he's so good that some the stuff he plays just blows over the heads of the masses. If there is one guitarist on this list that all the other guitarists on this list love, it's Jeff Beck. It's a shame that Beck doesn't have a larger audience. Spin "Truth" to get a taste of the original "Jeff Beck Group" featuring Rod Stewart on vocals.
The Top 12 Guitar Players You Must See Live Photo Gallery