by Trevor Portz
– Columnist —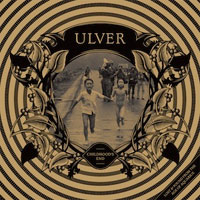 Ever since they followed up a black metal debut with an acoustic folk album, the members of Ulver have continually changed and metamorphosed, challenging fans—both old and new—with each album. They've tackled sparse electronic noise, symphonic bombast and the aforementioned brash black metal. Childhood's End dives further into the unexpected waters in which Ulver wades, this time presenting a series of psychedelic rock covers done, quite surprisingly, in a psychedelic rock fashion.
Covering a variety of well-known (the Byrds, Jefferson Airplane) and lesser-known (The Chocolate Watchband, Common People) bands, Childhood's End revisits a strange time in musical history (that being predominantly the '60s). It was a time when drugs weren't just used at night and after shows; rather, they were a critical part of the writing and recording process. Whether or not their affect was good or bad could be endlessly debated, but it's hard to argue that the music generated at the time was often as weird as the characters creating it. The members of Ulver have managed to capture that original weirdness, in all its various forms, and pull it together in a cohesive, unified way. It's as if they somehow found a string (besides that of mind-altering substances) that ties all of these diverse songs together, but that still allows each to remain individual.
What is possibly the strangest about this album is, as mentioned before, that the songs remain relatively true to their original incarnations. That's not to say they haven't been run through the Ulver generator, but they also haven't been ground up and spit out as something completely unlike their initial sounds. With a group as diverse as Ulver, it was almost expected that the songs would be reinterpreted until they would be barely recognizable. Never a band to conform to expectations though, they've let the uniqueness of the songs carry the album, instead focusing their collective energy on delivering top performances and maintaining the proper atmosphere.
Ultimately, Childhood's End is yet another memorable chapter in the epic novel that is Ulver. It may not be a masterpiece like Themes from William Blake's the Marriage of Heaven and Hell, but it is another excellent addition to a varied back catalog by an exceptionally creative band. What more could one really ask for?
Genre: Psychedelic Rock
Band:
Kristoffer Rygg (aka Garm) (v)
Jørn H. Sværen (misc)
Tore Ylwizaker (k)
Daniel O'Sullivan (g,b,k)
Track Listing:
1. Bracelets of Fingers (The Pretty Things)
2. Everybody's Been Burned (The Byrds)
3. The Trap (Bonniwell's Music Machine)
4. In the Past (The Chocolate Watchband)
5. Today (Jefferson Airplane)
6. Can You Travel in the Dark Alone (Gandalf)
7. I Had Too Much to Dream Last Night (The Electric Prunes)
8. Street Song (13th Floor Elevators)
9. 66-5-4-3-2-1 (The Troggs)
10. Dark Is the Bark (The Left Banke)
11. Magic Hollow (The Beau Brummels)
12. Soon There Will Be Thunder (Common People)
13. Velvet Sunsets (Music Emporium)
14. Lament of the Astral Cowboy (Curt Boettcher)
15. I Can See the Light (Les Fleur de Lys)
16. Where Is Yesterday (The United States of America)
Label: Kscope
Website: www.jester-records.com/ulver
Hardrock Haven rating: 8.8/10