by John Kindred
– Publisher —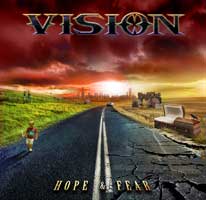 The Chicago-based Heavy Metal group Vision's latest studio effort Hope & Fear is a follow-up to their 2009 effort, The Other Side of Grey. The band features Nefarious on vocals, Sean P. Gahgan on guitars and keyboards, bassist Azrael and drummer Alex Kai. The band trends within the American heavy metal, hard rock genres of the '80s. Hope & Fear encapsulates 12 songs that lyrically are bound to emotional highs and lows. Vision uses metal and hard rock arrangements to create this dynamic tension.
Hope & Fear starts off with "Spero Timor," an atmospheric keyboard-led track with a mixed bag of voices and dialogues laid on top, which sets the stage for the rest of the album. "Wailing Deth" unleashes the double bass fury of Kai. The song sets the stage for heavily orchestrated arrangements that unfold throughout the album.
The rest of the CD unfolds in a theatrical fashion, much like Queensryche's Operation Mindcrime. Again, the music is tied thematically together by the emotions that surround hope and fear, which lends itself to the Queensryche comparison. But make no mistake that Nefarious isn't the second coming of Geoff Tate, as his vocal style isn't even close to being reminiscent of Tate. And while the vocal hooks and melodies are cool, at times, it sounds like Nefarious is pushing his voice beyond his capabilities.
The music also is more metal than progressive and leans heavily on layers of musical textures provided by the guitars and keys. Gahgan incorporates these instruments and provides the listener with dynamic changes in the arrangements throughout Hope & Fear. His solos are nice additions to each song; Gahgan delivers touches of flash, fluidity and plenty of melody.
Hope & Fear clocks in at nearly an hour in length and is a strong follow-up to their debut. The CD was produced, engineered and mixed by bassist Azrael LenGraden. The mix is crisp, energized and finds all the integral pieces of the music represented and mixed in a manner that each can be heard and felt. Metal fans, especially those who love opus-style, theme-oriented lyrics, will enjoy sitting back with their headphones on, listening as the story lines to unfold. The music obviously builds on the band's influences, as they work to create their own musical style.
Genre: Heavy Metal
Band:
Nefarious – Voices
Sean P. Gahgan – Guitar & Keyboards
Alex Kai – Percussion
Azrael – Bass
Additional Piano keyboards by 'Smokin' Joe DiGiacomo
Strings by The LenGraden Quartet
Track Listing:
1. Spero Timor
2. Wailing Deth
3. Edge of the World Rising
4. Hope & Fear
5. Lost Child
6. Autumn
7. Winter's Fall
8. Rush
9. Fathom
10. The Edge
11. Crimson Skies
12. Fear & Hope
Label: Lake of Fire
Web: http://www.cdbaby.com/cd/vision7
Hardrock Haven rating: 7/10