Walking Papers | Walking Papers
by Alissa Ordabai
– Senior Columnist —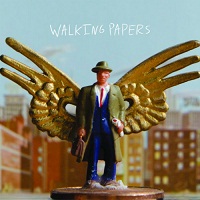 Walking Papers being referred to in the press as a "supergroup" says little about the past record of each member of this newly formed Seattle quartet. But a lot about today's tawdry catch-phrase rock journalism where honorable titles (such as, for instance, "rock star", "virtuoso", and "hero") are being devalued faster than Zimbabwean banknotes.
Yes, the band has recently brought in Duff McKagan, but he is the only universally recognized name in this line-up, which also consists of founding members Jeff Angell of the Missionary Position, Barrett Martin of Screaming Trees, and newly drafted Benjamin Anderson. But if we learn one thing from Jimmy Page supposedly having been happy with an idea to name Led Zeppelin "the Vegetables", it is that names and appellations shouldn't matter where the main purpose of a venture is something other than hype.
The problem is that the other-than-hype side of things is just as uneven with Walking Papers as their supergroup cred. There are some genuinely incisive and vivid moments on their self-titled debut full-length release, but to each brilliant tune there is one that is as hackneyed and lifeless as all the school-of-rock stereotypes.
"Already Dead" is a promising start to the album where the hypnotic stoner vibe with its ostinato repetitions blends in well with the new wave chilliness of the arrangement. And we get the first taste of the band's understated pop sensibility as spare instrumentation makes the melody stand out even starker against the background of eerie, widely spaced guitars and the hypnotic beat. The opener could have been a thoughtful, sober answer to Jane's Addiction's The Great Escape Artist had it managed to end if not in a catharsis then simply a resolution, or had it had more heart to it. But it simply expires, melting into apathy, remaining no more than a sketch and a sketchy introduction to the record.
What follows is just as patchy. "The Whole World is Watching" is a half-hearted, mechanistic Seventies-style hard rock workout, and "Your Secret's Safe with Me" is perhaps the lowest point of the entire album – a plain, half-baked demo where the lyrics do not justify the slapdash attention given to the songwriting and the musicianship.
The proceedings continue to oscillate between hackneyed, tired clichés and some genuinely inspired, spirited moments such as on standout "Leave Me in the Dark" where country rock and psychedelia are given such tasteful, lucid reading that you are left to wonder if this track was really recorded in 2012, and not in 1972.
It is, however the formulaic songwriting and the general one-dimensional murky atmosphere of the record – which is more about fatigue than anything else – which mar even the most graceful, sincere moments on this release. There are enough tracks here for what could have been a commendable, elegant EP release, but not enough for an album, with filler tracks doing more damage than the absence of a full-length album would have done to the band's short CV.
Genre: rock
Line-up:
Jeff Angell – vocals, guitar, piano
Duff McKagan – bass
Benjamin Anderson – keyboards
Barrett Martin – drums, keyboards,
Track list:
1. Already Dead
2. The Whole World's Watching
3. Your Secret's Safe with Me
4. Red Envelopes
5. Leave Me in the Dark
6. The Butcher
7. Two Tickets
8. I'll Stick Around
9. Capital T
10. A Place Like This
11. Independence Day
Label: The Boredom Killing Business, Sunyata
Online: http://www.barrettmartin.com/index.php?page=the-walking-papers/
Hardrock Haven rating: 6/10