by John Kindred
– Publisher —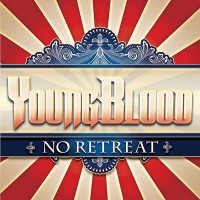 Youngblood originally signed a recording contract with Sony/Epic Records in 1989. At that time, the band included vocalist Bobby Sisk, guitarists Jeff Diehl and Eric Saylors, keyboardist Danny William, bassist Kyle Koker and drummer Kevin Kale. Youngblood spent nine months recording 45 songs, 16 of which were selected to be released on the band's debut album. And then, crickets. Faced with the ever-changing musical trends, the album landed on the shelf to gather dust, and eventually, the band broke up. Each member moved on, in different directions, but music remained the focal point for each.
More than 20 years later, Eonian Records blew the dust off the original album and finally released No Retreat for the world to finally hear. First off, this isn't a re-creation of music from the late '80s era. This IS the music of the '80s. Before grunge ripped the heart out of radio-friendly metal, Youngblood was putting forth music that directly was inspired by their generation. The comparisons creep out from every nook and cranny; the first being that Sisk's vocals have a searing vocal range that are highly competitive with those of Mark Slaughter. Nuances of Extreme, Motley Crue and even Enuff Z'Nuff also can be found here and there.
The music is exactly what you would expect from the '80s era. Slick production unveils the power-chord-crunch of electric guitars, blistering solos and a thunderous rhythm section. Plenty of energy explodes from the speakers. Lots of catchy hooks and sing-along choruses comprise No Retreat. Huge anthem-style tunes rock and roll you from start to finish. The accursed ballad roars its head a couple times on the songs "Coming Home" and "My One and Only," both of which appear toward the end of the CD. For the majority of No Retreat, the music maintains a heavy, metallic vibe.
The only negative to No Retreat is its length, at 16 songs. Youngblood easily could have gotten the message across in 10 or 11 songs. Is the music original? No; other bands during this time had a similar sound or style. However, musicianship makes up for that. After 20 or so years, the music is fresh and youthful, and the production is clean and vibrant. Just like a pack of unopened baseball cards from the same time period, the look and feel is a crisp just as the day they were created.
Genre: Hard Rock, Glam Metal
Band:
Bobby Sisk on Lead Vocals
Jeff Diehl on Guitars & Vocals
Eric Saylors on Guitars & Vocals
Danny William on Keyboards & Vocals
Kyle Koker on Bass & Vocals
Kevin Kale on Drums
Track Listing:
1. Pump It Up
2. Love Is All Around
3. Sock It To Me
4. Get Down To It
5. Shot of You
6. Heat of the Passion
7. Save Your Lies
8. Feel Thang
9. Find A Way
10. Taste Of Your Lovin'
11. Back In My Life
12. Coming Home
13. My One and Only
14. Don't Play With My Head
15. You've Gotta Go
16. I Love You
Label: Eonian Records
Hardrock Haven rating: 8.5/10