Addiction for Destruction releases "Rock 'n Roll To You" full-song stream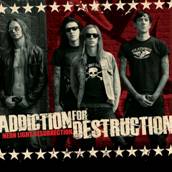 Moscow-based rock band Addiction for Destruction has released the streaming full-song MP3 for "Rock 'n Roll To You" off its new debut full-length record, NEON LIGHT RESURRECTION (available now).
AFD will be supporting Hardcore Superstar in Moscow in December, and will soon be announcing its Spring 2013 European tour.
Drawing from a love for the late 1980s Sunset Strip glam rockers and Scandinavian sleaze from the 2000s and experience in contemporary metal bands, Addiction for Destruction quickly jumped into the club scene to became Moscow's premiere local rock band. In 2010, A.F.D. released a four-song EP which expanded the band's visibility across Russia. Addiction for Destruction,releases, Rock 'n Roll To You, full-song, stream
By the next year, the single and video for "Feelin' Fine" was selling all over the world. NEON LIGHT RESURRECTION was completed in mid-2012 and picked up by R.W.A. Music Company for release.
Addition for Destruction is: vocalist Tom Spice, D. McKay on bass, guitarist Henning N. Nielsen, and Krock on drums.
NEON LIGHT RESURRECTION TRACK LIST
1. My Resistance
2. Rock'N Roll To You http://soundcloud.com/brosseaupr/02-rock-n-roll-to-you/s-JTl3E
3. On My Needle
4. Neon Light Resurrection
5. Nervous Breakdown
6. Jane Is Insane
7. Jaded Heart
8. Feelin' Fine
9. Can't Wait
10. (I Don't Care) You're Nothing
NEON LIGHT RESURRECTION is in stores and online, internationally. Follow A.F.D. at www.afd-official.com and facebook.com/AddictionForDestructionOfficial.