Aerosmith | Music From Another Dimension
by Cameron Edney
– Guest Columnist —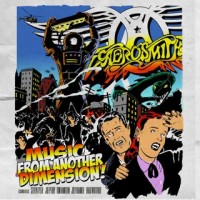 2012 has turned into a banner year for rock fans; first rock legends Kiss released their new album MONSTER, and now the iconic Aerosmith just unveiled their new studio album Music From Another Dimension. Aerosmith have been hard at work on this and it sure as hell has paid off. Opening the album with "Luv XXX" the band are doing what they do best releasing hard groove oriented rock music with great hooks, catchy choruses and those signature harmonies.
'Music from another Dimension' is sure to appeal to Aerosmith fans of all era's especially those into the Toys in the Attic and Pump era's of the band. Filled with tongue in cheek lyrics Steven Tyler is on fire, whaling on every track as only he could and doing one hell of a fine job too! One song that is sure to become a huge hit is "Can't Stop Lovin You" which features American superstar Carrie Underwood and will have you hooked instantly.
It's great to see the mighty Joe Perry taking on Lead vocals for a couple of tracks on the new album also and the line-up of guests on this album reads like the who's who of entertainment from Tyler's daughter Mia Tyler to Julian Lennon and actor and musician Johnny Depp who sings backing vocals on Perry's "Freedom Fighter."
Aerosmith fans will be extremely pleased with the bands first studio album in six years. It's certainly been well worth the wait and by the sound of things Australian fans will get a chance to hear some of these brand new tracks live in 2013. If you have been a fan of any of this iconic American bands previous work then you must go out and grab a copy of Music From Another Dimension, you won't be disappointed.
Genre: Rock/Pop, Heavy Metal, Hard Rock, Rock
Band:
Steven Tyler – lead vocals, harmonica, piano
Tom Hamilton – bass, occasional backing vocals
Joey Kramer – drums )
Joe Perry – lead guitar, backing vocals, occasional lead vocals
Brad Whitford – rhythm guitar
Track Listing:
Tracklist:
01. LUV XXX
02. Oh Yeah
03. Beautiful
04. Tell Me
05. Out Go The Lights
06. Legendary Child
07. What Could Have Been Love
08. Street Jesus
09. Can't Stop Lovin' You (Duet With Carrie Underwood)
10. Lover Alot
11. We All Fall Down
12. Freedom Fighter
13. Closer
14. Something
15. Another Last Goodbye
Bonus CD:
01. Up On The Mountain (Bonus Track)
02. Oasis In The Night (Bonus Track)
03. Sunny Side Of Love (Bonus Track)
Label: Columbia
Web: www.aerosmith.com/
Hardrock Haven rating: 10/10