Black Country Communion | Afterglow
by Steve Patrick
– Senior Columnist —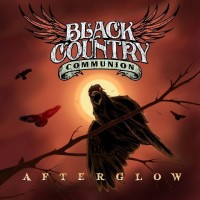 While the band itself might be going through some inner turmoil, Black Country Communion have still managed to release a quality album in their third release Afterglow. Vocalist and bassist Glenn Hughes and guitar virtuoso Joe Bonamassa have unfortunately had a very public spat over the band's future touring plans, but thankfully these issues came to light after Afterglow had already been created.
The record begins with the explosive "Big Train" which is propelled by a meaty Hughes bass riff. Hughes also showcases his otherworldly high-pitched vocals in the chorus. Bonamassa also delivers with a fiery wah pedal solo. Next up is "This Is Your Time" which is an album stand-out due to the monster guitar riff that dominates the entire track. Also, Bonamassa seemed to experiment with the solo on this one.
"Midnight Sun" is driven by a Derek Sherinian keyboard part that would bring a smile to mid-80s Eddie Van Halen's face. Hughes' pounding bass can be heard quite prominently on this one and begins to give away that Hughes was the primary writer on this album. Allegedly, Bonamassa's rigorous solo recording and touring schedule prevented him from contributing much to the songwriting.
The album's lead single "Confessor" comes next and is quite possibly the climax of the whole record. Hughes's bass and Jason Bonham's thunderous drums are in perfect tandem. Also, Bonamassa performs quite possibly the most blistering solo of his career that is then followed by a classic Hammond organ lead from Sherinian.
"Cry Freedom" seems like a forced attempt at a Hughes/Bonamassa dual vocal track for the sake of consistency. The previous two BCC albums had songs that featured Bonamassa more prominently on vocals and even singing solo lead vocals (i.e. "Song of Yesterday" or "The Battle for Hadrian's Wall"). Since Hughes dominated the writing aspect on this record, this dynamic was somewhat lost on Afterglow and makes "Cry Freedom" feel like an afterthought.
The title track is clearly a special song to Hughes and his vocal performance only enforces that fact. Hughes shows off his vocal prowess and depth by effortlessly shifting from a whisper early in the track to a primal roar at the song's crescendo. Sherinian lays down some keyboard-delivered orchestral arrangements that add to the otherworldly atmosphere of "Afterglow."
"Dandelion" will only feed the inevitable Led Zeppelin comparisons that this band has been subjected to since their inception. The primary melody in the background on this track is a dead-ringer for "Ramble On," not to mention that Bonham's powerful drumming harkens back to the work of his father. Hughes does his best Paul Rodgers impersonation on the soulful track "Common Man." This song is one of the several instances where each of the band's members takes a solo to highlight their musical virtuosity.
The only weak spots on the album are found in some slower songs late in track listing that drag the momentum of the music down. For example, "The Circle" and "The Giver" are both solid compositions and the band sounds great on them, but they just do not seem to fit very well with their placement in the track order.
Afterglow wraps up with the song "Crawl" which easily sounds like it could have been an outtake from Physical Graffiti. Sherinian's ethereal keyboards steal the show on this one, particularly while dueling with Bonamassa's intense guitar work.
While slightly less focused and cohesive as its predecessors, Afterglow is still a remarkable feat for a band operating in the classic rock genre in 2012. Hopefully whatever internal issues there may be within the band are dealt with in a positive and speedy manner because bands producing material of quality like BCC are desperately needed and their absence on the scene would be sorely missed.
Genre: Hard Rock
Band:
Glenn Hughes (vocals, bass)
Joe Bonamassa (guitar, vocals)
Derek Sherinian (keyboards)
Jason Bonham (drums)
Tracklisting:
1. Big Train
2. This Is Your Time
3. Midnight Sun
4. Confessor
5. Cry Freedom
6. Afterglow
7. Dandelion
8. The Circle
9. Common Man
10. The Giver
11. Crawl
Label: J&R Adventures
Webpage: www.bccommunion.com
Hardrock Haven rating: 8/10