Chasing Violets | Outside Heaven
by Nikiforos Skoumas
– Columnist —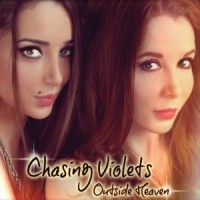 Those into melodic rock/AOR would probably agree that the past five years have been a very exiting and rewarding period in the life of any fan of the genre; and surprises never cease. Hailing from France, Chasing Violets are the new force in female fronted melodic rock, brought to us by US-based label Perris Records.
Chasing Violets are sisters Sarah and Melissa Fontaine joined by a cast of the usual AOR veterans including Frederick Slama, Robert Sall, Tommy Denander, Paul Sabu and Goran Edman amongst others. You would not be wrong to assume that Slama is the driving force behind Chasing Violets having written the majority of this debut album while tailoring it to the standards of the two female voices. Slama also produces the album, essentially bringing to front all the rocking aspects of AOR (distorted guitars, big drumming) while retaining that radio-friendly musical texture.
Outside Heaven -for the instrumental part- sounds like a mixture of Work of Art and Slama's AOR Project. The combination of guitars and keyboards is essential to the songwriting, masterfully harmonizing with the vocal melodies, being the main feat of Chasing Violets. Upon first play the two sisters sound vocally identical, sharing a similar tone and style that makes them almost indistinguishable on record. As with the AOR Project and Work of Art, Chasing Violets is primarily a song-oriented project; songwriting comes before performance so one should not expect over-the-top vocal performances or great amounts of guitar shredding. The girls deliver to the demands of each song rather than using the project as a vehicle to promote their technical abilities.
The album opens on the subtle-melodic "I Can't Love no More" which perfectly lays the foreground for superior AOR tracks such as "No Margin For Error," "The Price to Pay," "Above Suspicion" and "You're my Obsession" which are bound to sound exciting even to the most experienced of melodic rock fans. Outside Heaven is a remarkable AOR debut and one that firmly established the Fontaine sisters as a major force within the genre; one can clearly see the labels of the genre fighting over the rights for their follow up album.
Genre: Melodic Rock, AOR
Line up:
Göran Edman: vocals – Philip Bardowell: vocals – Jerry Hludzik: vocals – Dane Donohue: vocals – Rick Riso: vocals – John Barbour: vocals – Tommy Denander: all Instruments – Paul Sabu: all instruments & vocals – Frédéric Slama: guitars & keyboards – Christian Tolle: guitars & keyboards – Robert Säll: guitars & keyboards – Joey Summer: guitars & keyboards – Michael Landau: guitars – Bruce Gaitsch: guitars – Colin Rodgers: guitars – Tim Manford: guitars – David Mark Pearce: guitars – Stefano Lionetti: guitars – Mario Percudani: guitars – Daniel Fontaine: guitars – Eric Ragno: keyboards – David Diggs: keyboards – Alessandro Del Vecchio: keyboards & vocals – Morris Adriaens: keyboards & vocals – Anna Portalupi: bass – Urban Danielsson: bass – Mike Baird: drums – Miri Miettinen: drums – Pierpaolo Monti: Drums – Herman Furin: drums – Pat Thern: drums – Sacha Spiegel: drums
Track List:
1. I Can't Love No More
2. No Margin For Error
3. The Price To Pay
4. When The Darkness Falls
5. Voices In The Wind
6. Above Suspicion
7. Outside Heaven
8. Hold Back The Dawn
9. No One's Gonna Hurt Me Anymore
10. A Hole In Paradise
11. You're My Obsession
12. Cease Fire
13. Just Wanna Be Your Heroin
Label: Perris Records
Web: http://www.chasingviolets.fr/
Hardrockhaven rating: 8.5/10