Dani Nolden from Shadowside
by Deb Rao
– Senior Columnist —
Hailing from the city of Santos, Shadowside is comprised of singer Dani Nolden, guitarist Raphael Mattos, bassist Fabio Carito, and drummer Fabio Buitividas. The band has made quite the impact on Brazilian fans. Lead singer Dani Nolden is destined to become one of most powerful leading female singers to emerge on to the metal scene. Dani Nolden checks in with Hardrock Haven to discuss their latest release Inner Monster Out.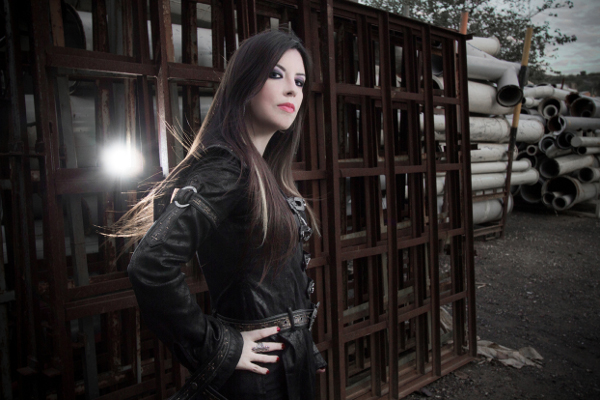 HRH: Shadowside has been together since 2001. Tell us about the writing process for your latest release Inner Monster Out.
Dani: For the first time we had the pleasure to make the record as a real band and not just a one or two band member effort. This time we really wanted to please everybody in the band; This is kind of a challenge for us because we all like different stuff. We can never agree on a favorite band or community I pod when we are touring. We like so different stuff. We have very unique tastes in the band. Our challenge was to please everybody without sounding weird. We wanted something cohesive. We wanted something unique. We wanted something that made sense not something that went from thrash metal to pop metal. My guitarist and myself came out with half the ideas each. We all change melodies and we all changed guitar riffs. We removed parts and in the end all the songs have a little bit of each of the band members. It was very much a band process. It resulted in something that we all could be very proud of.
HRH: I love your voice. The band has a unique sound full of melody yet combining thrash. It is everything combined. Do you agree?
Dani: I agree with you. I am actually glad that you have that impression. That is kind of where we wanted to go. We wanted to mix all of our influences. I like thrash metal as well but I like thrash metal that has singers. We wanted to mix it all together without sounding like our favorite bands. We wanted to sound like ourselves. I always like melodies. I want to explore with my voice as much as I can. I really like to be challenged. It is always a challenge when the producer asks you to come up with something and you are not sure if you are able to. Our producer Fredrik Nordstrom came to me and said I want you to sing this. I would tell him, I can't do this and he would just ignore it. He would start to record and pretend he hadn't heard me. It is very fun to explore our musicality like that.
HRH: Did your producer set the bar very high?
Dani: Yes, he did. Fredrik is very direct. He is not the type of producer that is going to give us a pat on the back. We didn't want a guy paying us compliments. We felt that was for the fans and the press later to give us compliments rather than the producer. He has to set the bar high, so we can get out of the studio with something good. It was very good to deal with Fredrik Nordstrom because he is a perfectionist. He knew exactly what the band was after. He would be very straightforward when something was not sounding good. He left the creative process to us. He would never tell us what to do. But he would be very honest to what was working or not.
HRH: I know the band is very huge in Brazil. Any plans to play the U.S. at all? I think when the band starts playing the U.S. you will make quite an impact on the metal scene here. We need new female singers in rock.
Dani: Thank you so much. I really hope we are going to hit the U.S. soon. Last time was in 2009 but it wasn't a big tour. We just played five or six cities. This time we really want to hit it a little bigger. We want to play lots of cities. We want to be in the country for as long as we can just playing shows. We released the album not to long ago. The album is Number 9 on the CMJ's. It was in the Top 15 for six weeks.
HRH: You were voted Best Metal band by the Independent Music Awards. Did they discover you?
Dani: They sent us a link for submission. I didn't expect anything. I wanted a long time to hear back from them. Then they called us and sent you guys are a Nominee and you are going to compete against four other bands. I thought that was amazing being selected on the Top 5 from thousands of entries. They told us to start preparing your final campaign because voting was going to end soon. We went on playing shows and then we got an email that the winner is Shadowside. That was a huge surprise. It is very nice to see that we are growing.
HRH: As a singer, who influenced you growing up?
Dani: It was the guys. I never had any female influences. When I started I didn't have any example of female in rock metal. I knew Heart. I grew up listening to guys like Sebastian Bach, Rob Halford and Paul Stanley to Iron Maiden.
HRH: The plan is to play in Brazil and hopefully hit the U.S. soon?
Dani: It is definitely going to be next year. Because this year we have 20 dates now in Brazil. This time we actually had a long tour in Brazil. Then we are going to play Europe and hope to play the U.S. We have lots of friends there. But it will definitely be in 2013.
Online: www.facebook.com/shadowsideband