Frozen Rain | Ahead of Time
by Nikiforos Skoumas
– Columnist —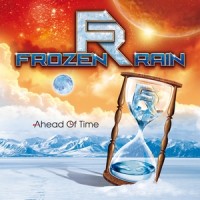 It would be fair to say that by 2012 Avenue of Allies records have established themselves as a reliable source of first class melodic rock music; perhaps lacking somewhat in terms of frequency when compared to the leading label of the genres such as, Frontiers Records and AOR Heaven, which put out records every couple of months, yet each time they release an album, they make it count.
That is definitely the case with Frozen Rain; a German melodic rock, AOR band on their second studio effort Ahead of Time. Frozen Rain features guitarist Rik Priem, keyboardist Kurt Vereecke, drummer Hans Vereecke, bassist Vincent DeLart and non other than Carsten Schulz. Now, Carsten has fronted a few German melodic hard rock bands in the past, most notable being Evidence One and Midnite Club, but Frozen Rain is somewhat of a new artistic territory for the vocalist. You see this is far from the melodic hard rock of say Jaded Heart, Mad Max or even Evidence One. In fact Ahead of Time draws upon American adult oriented rock where keyboards, sweet-sugary melodies and catchy rhythm section set the standards.
What Frozen Rain have achieved with Ahead of Time is an album without any dull moments. When Carsten does not sing, there is definitely some incredibly melodic solo performed by the guitar not to mention how well the bass harmonizes with the keyboard melodies and the of course come the unforgettable choruses, clichéd to a point but amazing non the less.
There is no disputing the fact that the new Frozen Rain album holds so many great performances that it would definitely require at least a dozen plays before it sound any less exciting to the ears of the AOR fan. Add to the above that Ahead of Time is produced by Alessandro Del Vecchio (Eden's Curse) and mastered by the authority that is Dennis Ward and you have a perfectly wrapped melodic rock powerhouse in 2012.
Genre: Melodic Rock, AOR
Line Up:
Carsten 'Lizard' Schulz: lead and backing vocals
Hans Vereecke: drums
Jurgen Vitrier: keyboards
Vincent De Laat: bass guitar
Rik Priem: rhythm and solo guitars, acoustic guitar
Kurt Vereecke: keyboards, bass guitar, acoustic guitar, backing vocals
Track list:
01. Believe It Or Not
02. Forever
03. Breakin' Out
04. We're Gonna Rock
05. Too Late
06. Turn It On
07. Ahead Of Time
08. The Last Dance Ain't Over
09. Not At Home
10. The Way That You
11. Voodoo Party
Label: Avenue of Allies
Web: http://www.frozenrain.be/
Hardrock Haven rating: 9/10