Helloween To Release New Album 'Straight Out Of Hell,' Out January 22nd On The End Records, Announce New Video For First Single "Nabataea"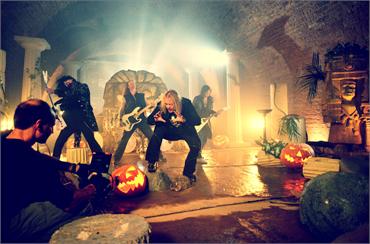 Perfect timing: At dusk of the year's most scary night, the "inventors of German melodic speed metal" have finished the video production of the first single from the upcoming album Straight Out Of Hell.
The six-minute opus for "Nabataea" develops on several levels, including 3-D animation at motion picture level. The legendary kingdom Nabataea provides the atmospherically dense reference for the strong first release from Helloween's new album that will be available beginning of 2013. Apart from the standard album with thirteen mostly fast-paced songs, there will be a limited edition featuring premium packaging and bonus tracks, including the exclusive Hammond version of the song "Burning Sun" in memory of Deep Purple's recently deceased organ player Jon Lord. Straight Out Of Hell will be released January 22, 2013.
'Straight Out Of Hell' Tracklisting
01. Nabataea
02. World Of War
03. Live Now
04. Far From The Stars
05. Burning Sun
06. Waiting For The Thunder
07. Hold Me In Your Arms
08. Wanna Be God
09. Straight Out Of Hell
10. Asshole
11. Years
12. Make Fire Catch The Fly
13. Church Breaks Down