Helstar | 30 Years of Hel
by Cynthia Jo
– Columnist —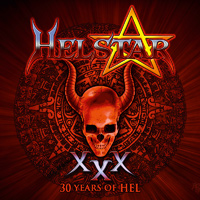 Houston natives and one of the pioneers of what was 80s power metal, Helstar are celebrating 30 years of power metal with their new CD/DVD release: 30 Years of Hel, a collection of 18 of their greatest songs, all live and fans will appreciate every beat.
The compilation which consist of a DVD and two CDs features live coverage of their recording in their hometown really bringing a live performance into their fans home, really highlighting the fans enthusiasm as well. The songs really do highlight the best of the best that Helstar has provided in the 30 years of their career.
All songs included in this live CD are a great example of what defined the 80s power-speed-heavy-metal, respectively. Musically the songs are beyond most of the rhythmic, frenetic songs ever—and not to mention all the powerful vocals that James Rivera executes.
In and out of the industry much like any other bands over the years they celebrated the release of an underrated, neo-classical thrash-powered 80s box set Rising From The Grave. The box set which is comprised of 88's A Distant Thunder and 89's Nosferatu and it comes with a DVD of 2000's belatedly released live effort 'Twas The Night Of A Hellish Xmas. Similar to 30 Years of Hel, the compilation is better developed, better performed and it generally has better audio quality—one really has to hear it to feel it.
30 Years of Hel is definitely a must for a heavy metal collection, especially those hardcore fans of Helstar.
Genre: Heavy Metal, Thrash Metal
Band:
Larry Barragan – Guitars
James Rivera – Vocals
Jerry Abarca – Bass
Robert Trevino – Guitars
Michael Lewis – Drums
Track Listing:
Disc 1:
01. Angels Fall To Hell
02. Towards The Unknown
03. Suicidal Nightmare
04. The King Is Dead
05. Burning Star
06. To Sleep Per Chance To Scream
07. The Plague Called Man
08. Evil Reign
09. Monarch Of Bloodshed
10. Winds Of War
11. Good Day To Die
12. Wicked Disposition
13. Pandemonium
14. Bitter End
15. Harker's Tale
16. Angel Of Death
17. Baptized In Blood
18. Alma Negra
19. The King Of Hell
20. Run With The Pack
Disc 2:
01. Angels Fall To Hell
02. Towards The Unknown
03. Suicidal Nightmare
04. The King Is Dead
05. Burning Star
06. To Sleep Per Chance To Scream
07. The Plague Called Man
08. Evil Reign
09. Monarch Of Bloodshed
Disc 3:
01. Winds Of War
02. Good Day To Die
03. Wicked Disposition
04. Pandemonium
05. Bitter End
06. Harker's Tale
07. Angel Of Death
08. Baptized In Blood
09. Alma Negra
10. The King Of Hell
11. Run With The Pack
Label: AFM Records
Web: http://www.helstarmetal.com/
HRH Rating: 7.5/10